Maria följde med mig till stallet och väl där mötte vi Mimmi som ska börja hjälpa till med Pepper så att han får komma ut och röra mer på sig. Det blev en enkel introduktion där vi pratade om hur jag brukar leda/hantera honom från marken och så tömkörde vi lite. Pepper verkade väldigt nöjd med att bli tömkörd igen – det var ett tag sedan sist.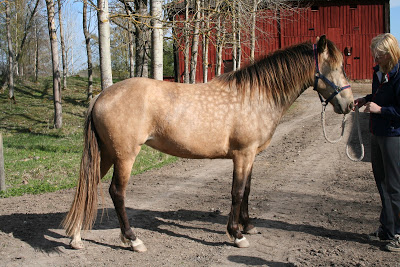 Nu har Percy bara lite, lite vinterpäls kvar. Så här vackert apelkastad har hon blivit!
Mimmi saknade ridkläder (jag hade ju sagt att vi skulle tömköra…) så jag och Maria tog en tur med stona och upptäckte att Percy ömmade i fötterna. Det fick bli ridning i en hage istället för grusväg. Tyvärr släpper de nog djur där vilken dag som helst. Får se hur vi ska göra då då det är mest grusvägar i närheten. Jag är inte sugen på att sko henne – särskilt inte som jag då måste sko henne på alla fyra inför certifieringen. Säkerligen behöver hon även lugnande eftersom fotvård är det hon tycker absolut sämst om även om hon långsamt blir bättre. I hagen hittade hon åter igen sin "gait", men innan dess hann jag från Calinkas rygg konstatera att det nog är något åt foxtrot som hon annars gör – det påminner om trav, men är inte trav och inte heller tölt. Med tiden kanske den kan plockas fram också – nu fokuserar vi på Rocky Mountain hästens speciella gångart. Nu verkar den komma när fötterna ömmar eller hon går för fort.
Calinka gick bättre än på länge när jag bara följde med Percy och Maria och inte alls red. Härlig var hon i alla fall och så fin form! Maria hann även med en kort galopp på Percy – och hon höll med mig om hur härlig galopp hon har. En underbar kväll – efter en lika vacker dag med sol och blå himmel.
Innan det blev mörkt hann jag slå ner några stolpar till j Peppers kommande hage- det gäller att passa på.
Maria joined me to the stable and at the stable we meet Mimmi that is going to start to help me with Pepper so he can work more. We did an easy introduction, talking about how I handle him at the ground and continued with long reining. pepper really seemed to enjoyed to be long reined – it was some times since last time.
Mimmi hadn't brought any riding clothes (I told her that we should long rein) so Maria and I took the mares for a trail ride and noticed that Percy didn't like the surface. We turned back and used a pasture instead. problem is that they are going to put cows there rather soon. And most roads in the vicinity is not nice grassy ones. I don't feel like putting shoes on her feet – especially as she then needs shoes on all four feet because of certification. She would also need some tranquilizers as foot care is the thing she likes the least even if she slowly gets better and better. While in the pasture she found her "gait" again. While at Calinka's back I saw that the things she has been doing otherwise has to be something like foxtrot – she is not trotting but it is a troty gait; still not a four beet gait. later we might be able to refine that as well. Now she seems to use that when her feet hearts or she is running to fast.
Calinka was very nice collected when we just acted at company for Percy – not focusing or working her the least. Very nice and so beautiful! Maria cantered a bit with Percy – and Maria agrees with me that she has a very nice canter. A wonder full evening – after an equally beautiful day with sun and blue skies.
Before it got dark I managed to get some more poles for Peppers fence in the ground – need to work as soon as there its a slight possibility.
http:///ullekalv.se/wp-content/uploads/2015/09/ullekalv_header_logo.png
0
0
Ingrid Amadori
http:///ullekalv.se/wp-content/uploads/2015/09/ullekalv_header_logo.png
Ingrid Amadori
2012-05-03 19:07:00
2012-05-03 19:07:00
Effektiv kväll