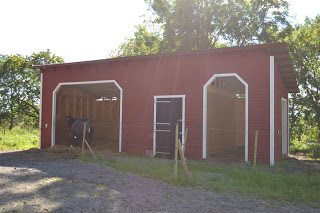 The shelter that was approved earlier this week.
Igår gick saker och ting inte rikgit som jag ville. Mimmis bil startade inte så hon kunde inte motionera Pepper och när jag skulle jobba Calinka spöregnade det så hon inte ville gå framåt. Dessutom hade jag Isac med mig och han var inte heller helt imponerad.
Idag hade vi besök av Sylvia som är intresserad av Rockies. Döm om hennes förvåning när det visade sig att hon bor nästgårds! Hon som trott att det var mycket längre till Rockisar.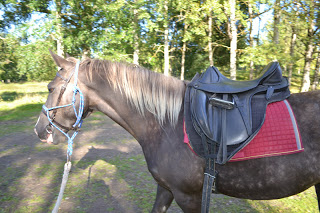 Bunny all dressed up.
Pepper blev först tömkörd -lite tråkigt tyckte han men han jobbade fint och sökte sig mot en ärlig form. Percy och Calinka fick komma ut på en ridtur – Percy skötte sig utmärkt med Sylvia på ryggen, trots att vi möte kor och ett tvåspann med tjusig vagn på väg för att hämta ett brudpar. Eftersom jag hade tid fick även Bunny komma ut på promenad. Hon fick både sadel och träns på sig och så gick vi en bit. Inga problem, hon bara följde med. Dessutom börjar det gå att lyfta bakbena! Dagen avslutades med att jag målade boxdörrarna som bleknat i sommar solen.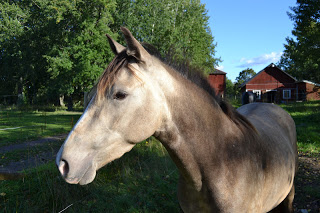 Yesterday things didn't really go my way. Mimmi's car didn't start so she couldn't work Pepper and when I was going to exercise Calinka it started to rain heavily. That meant a not so happy Isac that was with me in the stable and a horse that hardly wanted to move forward.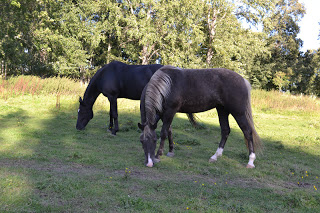 Calinka and Bunny get along well.
To day we had a visitor – Sylvia – that is intressted in Rockies. She got very surprised when she found out that there was Rockis very close to her! She thought that she needed to go much longer to visit one.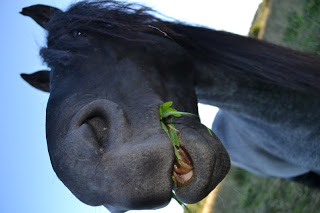 Pepper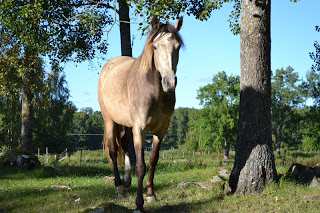 First I long reined Pepper as his schedule this week hasn't worked out as planned. He worked nicely but not very engaged. Percy and Calinka got on a short trail ride. Percy behaved perfectly with Sylvia on her back even as we meet cows and two horses and a carriage prepared for a wedding. As I had time left I took Bunny for a walk, all dressed up with saddle and bridle. She behaved perfect and just joined me. W
e also managed to lift the hind feet! I ended the day by repainting the stall doors as the got tanned.
http:///ullekalv.se/wp-content/uploads/2015/09/ullekalv_header_logo.png
0
0
Ingrid Amadori
http:///ullekalv.se/wp-content/uploads/2015/09/ullekalv_header_logo.png
Ingrid Amadori
2012-09-15 21:02:00
2012-09-15 21:02:00
Alla hästar motionerade – det var ett tag sedan!