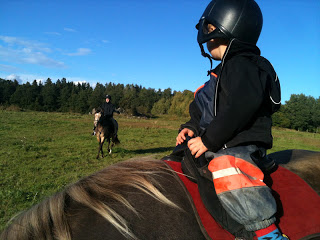 Jag har inte förstått varför det ibland varit mindre kraftfoder än jag förväntat mig i hinken jag blöter korn i. Ibland saknas vatten, trots att det inte verkar ha läckt. Men det kanske har varit någon av medryttarna som gjort iordning eller använt? Eller det var vad jag trodde. Idag förstod jag – det måste vara en råtta! Det fanns tydliga spår så att säga. Tack och lov ingen levande råtta. Härligt….blir till att skaffa hink med lock snarast. För råttfarm har jag inte tänkt skaffa.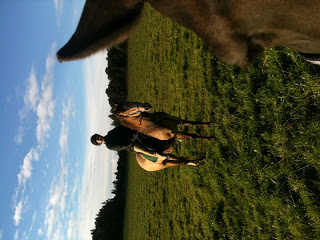 Maria gjorde oss sällskap med Percy medan Isac red Bunny. Det fungerade perfekt och hästarna skötte sig kanon trots att den ena galopperade en del, det for förbi en stor traktor med gigantiskt släp och hästarna inte var helt nära varandra. Ska det vara så här enklet med treååringar? Percy funderade förvisso på att bocka lite. Efter lite klurande började vi tro att det handlar om någon lättare sträckning eller att det bara blivit kallare då hon såg mer lateral ut i sitt gångartsmönster oavsett gångart och hon bara reagerade med bockningstankar i högervarv.
Mika följde med och såg eländig ut medan vi red runt. Calinka började ett storgräl med Pepper inne i stallet på var sida av boxarna. (Tur att Pepper är förståndig och går därifrån ibland). Calinka mest bara skrek. Pepper var däremot missbelåten med att han inte fick kommaut – han skulle gärna gå minst ett pass om dagen den hästen…
I haven't really understood why It sometimes have seen to be less grain than I expected in the bucket where I put corn with water to soften it up. Sometimes it have even been less water than expected, even if it doesn't seem to be a leak. Maybe some of the people that helps me have b een there earlier, or prepared the feed? Or at least that was what I thought. Today I realized – it has to be arat!I found good evidence so to say. Thankfully no living rat. So..I have to get a bucket with a lid as soon as possible. I have not plans about a rat farm.
Maria made us company with Percy while Isac rode Bunny. It worked perfectly and the horses behaved great even if one cantered, walked away, a big tractor passed by and the horses got some distance between them. Is it supposed to be this easy with three year old? Percy thought about bucking. Some thinking made us realize that she only did this on the right lead and that she was more lateral in al her gaits than usual. So, probably she just got something with her muscles, a slip or the fact that it starts to get colder. Just need to keep an eye to if.
Mika also joined us while we rode. She looked like a typical sight hound – as someone tortured her. Calinka started a big fight with Pepper in the stall, on on each side of the wall. (Luckily Pepper is clever enough to sometimes stay/walk away). Calinka just screamed. Pepper instead felt sorry for himself – why didn't we bring him out? He would love to work at least once a day….
http:///ullekalv.se/wp-content/uploads/2015/09/ullekalv_header_logo.png
0
0
Ingrid Amadori
http:///ullekalv.se/wp-content/uploads/2015/09/ullekalv_header_logo.png
Ingrid Amadori
2012-09-21 16:03:00
2012-09-21 16:03:00
En råtta