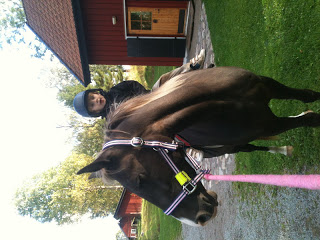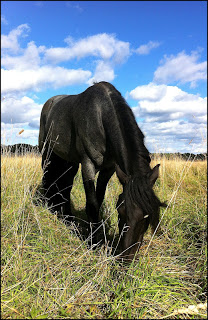 Redan innan Percy och Pepper kom till Sverige pratade Isac om Bunny då och då, och har gjort det sedan dess. Jag vet inte varför han fastande för henne – kanske något med namnet? När då Bunny äntligen kom ville han genast rida på henne (och redan innan hon ankom). Han verkar vara extra svag för henne. Så idag fick han äntligen rida på henne. Väl på hästryggen sa han att han väntat så länge på Bunny. Inte precis vad jag tänkt, att Isac skulle vara den första i Sverige på hennes rygg, men hon följer snällt med på promenad utan att bli rädd och Isac har suttit på henne inne i boxen. Hon verkar inte bry sig det minsta. Dessutom verkar hon vara extra försiktig med Isac. Som grädde på moset kramade Isac Bunny – kring frambenet. De är så söta. Själv blir jag bara än mer övertygad om hur underbara Rockisar är!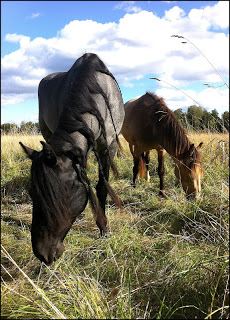 Calinka fick även hon ett dressyrpass – men Isac hjälpte till att värma upp henne. Kul med en välskolad häst där jag kunde gå bredvid och styra från marken så fick vi till öppna utan problem. Sedan fick jag ta över en stund, Calinka skötte sig riktigt kanonbra. Återigen stel, men jättebra försök, hela tiden var ryggen härligt rundad under mig. På väg tillbaka fick Isac rida barbacka – och lära sig att stanna häst. Calinka ställde snällt upp och lydde sin lilla ryttare. Extra kul är att hon idag inte surade nämnvärt när hon fick hans sadel på ryggen – det är skillnad mot "vuxensadlarna". Även hon gillar den lilla killen.
Mimmi hade redan varit ute och tog ett par bilder på Pepper och Percy och red Pepper en vända. Han så väldigt nöjd ut när jag och Isac var där. Skönt att jobba tror jag han tyckte. Alla mina Rockisar verkar nämligen ha en väldig vilja att få vara med, att få en uppgift, att få jobba!
Even before Percy and Pepper arrived in Sweden Isac talked about Bunny now and then. I don't know why I fell for her, maybe something with the name? When Bunny finally arrived he wanted to ride her directly (and even before she arrived). He seems to be extra weak for her. Today he finally got to take a short trip on her back around the buildings. Then he said that he had waited so long for Bunny. This was not what I had thought, that Isac would be the first on her back in Sweden. But she leads well, and don't seem to care when he have been on her back in the stall. And she seems to be curious and carefull with him. Before we headed of Isac hugged her – around her front leg. They are so sweet. And I get more and more amazed about the Rockies!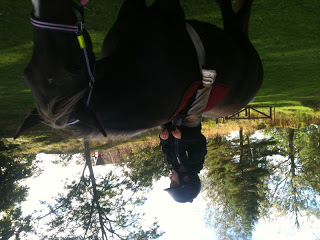 Afterward Calinka got some dressage exercises – and Isac helped to warm her up. Nice with a well trained horse that I could do shoulder in from the ground with – Isac on her back. Then I took over, working her a bit more from her back. Calinka was wonderful, trying very hard, arcing her back nicely even if she was very stiff. On the way back Isac rode bare back to the stable – and learned how to stop a horse. Calinka kindly obeyed the little rider. I think she likes him – she didn't even be grumpy when Isac's saddle was put on her back. There is a differences between that one and the "full size" saddles.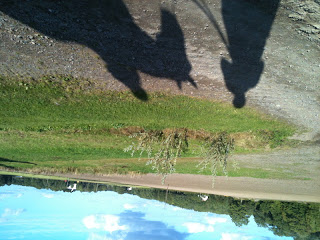 Isac , Calinka and me
Mimmi had already passed by and had taken Pepper for a trail ride and made some photos of the horses. Pepper seemed very content when I saw him. I think he finds it very nice to be worked. All my Rockies really seem to appreciate to have a work to do, a purpose, a possibility to be around!
http:///ullekalv.se/wp-content/uploads/2015/09/ullekalv_header_logo.png
0
0
Ingrid Amadori
http:///ullekalv.se/wp-content/uploads/2015/09/ullekalv_header_logo.png
Ingrid Amadori
2012-09-17 19:31:00
2012-09-17 19:31:00
Isac & Bunny