Dagen kändes lika grått och tråkig som regnet ute som vägrade sluta. Jag ville inget, var inte sugen på något. Upp till hästarna ar jag ändå tvungen att ta mig så, så fick det bli. Någon (häst eller ko?) hade öppnat den sista och enda kvarvarande hösilagebalen så nu lär den bli förstörd. Stona stod i lösdriften och tittade på regnet utanför. (Smarta)
Pepper syntes inte till någonstans så jag gick in i hans hage och visst var han där. När han såg mig kom han glatt i trav. Jag vet inte vad det var, men han bara fick mig så glad och gav världen färg igen. Han var lite för "på" och busig, han ville leka, stå på bakbenen och springa! Själv känner jag mig inte helt säker i den situationen förrän jag har en långpisk i handen för att säkert kunna hålla avstånd. Efter att ha hämtat den lekte vi; Pepper vände, snurrade, galopperade, stegrade, bockade…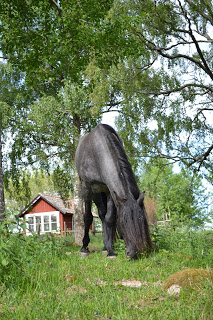 Hans ögon ser så kloka ut, intelligenta, som om han vet så mycket. Bågarna över ögonen försärker intrycket och pannluggen. Jag vet inte vad det är, men den hästen får mig att må bra, får mig att känna mig speciel. Men, han är också den som utmanar mig mest, som ser mina svagheter och utnyttjar dem. Det är långtifrån varje gång han får mitt humör på topp. Han trollbinder mig, har gjort från första gången jag red honom.
The day was grey, boring and the rain refused to quite raining. I didn't want to do anything, nothing feelt fun. I had to visit the horses, so I left. Someone (horse or cow?) had opened the last silage bale so it is going to be ruined. The mares was in the shelter, watch the rain. (Clever ones).
Pepper wasn't anywhere to bee seen so I entered his pasture, and there he was. When he saw me he came up, trotting.I don't know what it was, but he made me happy and put colors in the world again. He was a little "to much", wanted to play, be on his hind limbs and run! I don't feel totally comfortable around him under that circumstances if I don't have a long whip in my hand. While I had gotten that we played for some time: Pepper spun around, cantered, reared, bucked and turned…
His eyes seems so intelligent, so clever, as he knows a lot. The arcs over his eyes enhances the impression as well as the forelock. I don't know what it is, but that horse makes me feel good, makes me feel special. But he is also the one that challenges me most, that sees my weakness and uses them. It is not at all every time that he makes me feel good – he shows me my weaknesses clearly. I am under his spell and have been so since the first time I rode him.
http:///ullekalv.se/wp-content/uploads/2015/09/ullekalv_header_logo.png
0
0
Ingrid Amadori
http:///ullekalv.se/wp-content/uploads/2015/09/ullekalv_header_logo.png
Ingrid Amadori
2012-06-01 17:04:00
2012-06-01 17:04:00
Grått och regn