Sommareksem hos häst är något jag fasar inför. Jag vet inte hur vanligt det är hos Rockyn, jag har hört om ett par fall som skulle kunna vara det. Av allt jag har kunnat förstå är det alltid en risk när man importerar häst och den då utsätts för ett helt annat insektstryck och andra insekter än vad den är van vid. Förra året täckte jag därför Pepper och Percy en hel del, men i år har jag låtit dem gå mera utan täcke. Men, man bör vara försiktig flera år.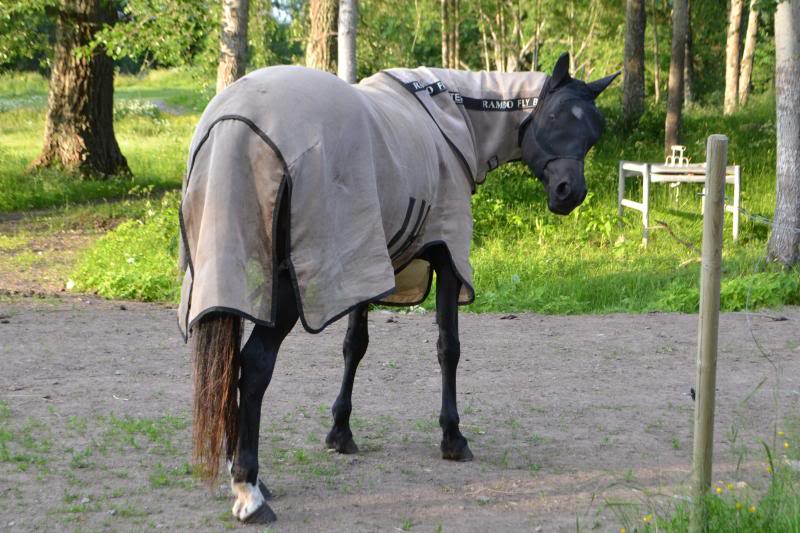 Därför blir det täcke på så fort de visar minsta tendens till att klia sig något mer än vad jag anser normalt. Alla hästar kan ju få lite klåda av de insektsbett de får, men när de börjar klia sig så man eller svans börjar ruggas eller ett antal dagar i rad och neem oil inte hjälper då blir det täcke på. Bättre att vara för försiktig känner jag. För skulle någon av dem utveckla eksem blir det så oändligt mycket mera jobb och lidande för hästarna.
Och nej, ingen av hästarna har eksem idag – Calinka är den som är värst drabbad av insekterna. Hon kliar alltid svansen ordentligt på våren/början av sommaren och attraherar väldigt många blinningar och bromsar. Så, det blir ofta flugtäcke för henne. Bunny har i år reagerat på något och fått små utslag över kroppen, som av insektsbett. Så, även hon får bära täcke dagar när insekterna är aktiva.
Flughuvor används också – vi har mycket flugor. Utan dem blir hästarna lätt lite röda eller rinniga i ögonen, även om det också är individuellt hur känsliga de är.
Sweet itch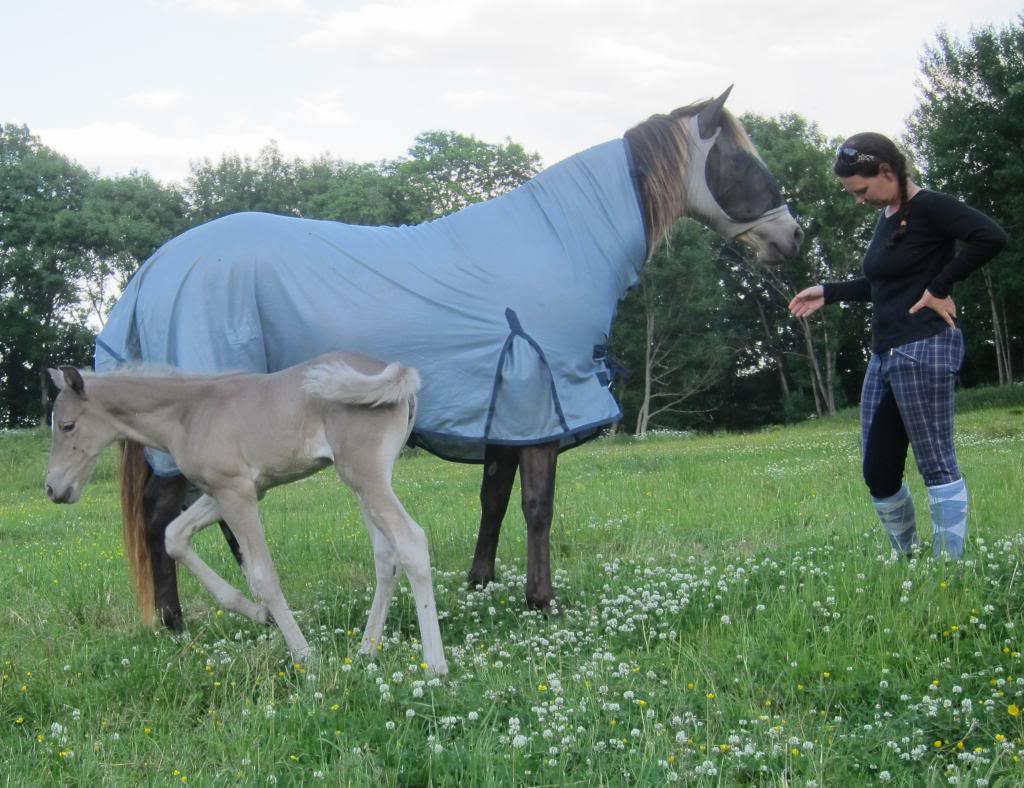 Sweet itch in horses is something that I dread. I don't know how common it might be with the Rocky, even if I have heard about a couple of cases that might be what I fear. But, I have understood that it always is a risk when importing a horse and it is into a totally different amount and type of insects than used to. Therefore Pepper and Percy wore rugs most of the summer, but this year I have let them stay more without it. But I have to be careful for years.
I cover my horses as soon as they show the least signs to scratch more than I think would be normal. Of course all horses can get a little bit itchy by mosquito bite, but when mane or tail starts to show signs of rubbing or I seem them scratch multiples days and the neem oil that I usually use helps. Better safe than sorry. Cause if someone would get problems they would suffer and there would be a lot of work. It is much easier to try to prevent.
And no the one having most problems is Calinka – she always scratch her tail each spring/beginning of summer and get always a lot of bites of those bigger insects and therefore is the one being most in fly sheets. Bunny has been reacting to something – but it is with small lumps all over her body – not the sweet itch
version. Still, that makes me let her wear rugs days when insects are active.
And fly hoods – well we have so many flies and they tend to get in the eyes all the time if they don't get any protections, sometimes making the eyes a little red or full of tears.
http:///ullekalv.se/wp-content/uploads/2015/09/ullekalv_header_logo.png
0
0
Ingrid Amadori
http:///ullekalv.se/wp-content/uploads/2015/09/ullekalv_header_logo.png
Ingrid Amadori
2013-06-29 12:22:00
2013-06-29 12:22:00
Eksem