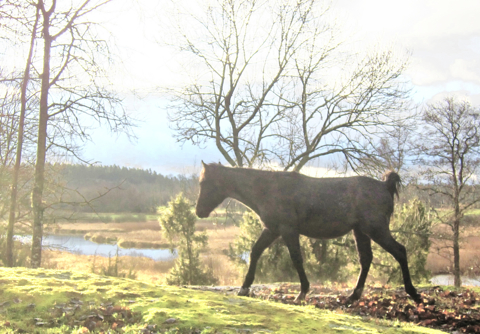 Calinka gjorde idag ett av sina bästa tömkörningspass. Redan från start fokuserade hon och jobbade. Tungan avslöjade henne då hon rörde den fram och tillbaka i munnen, som för att kunna jobba bra. Snart sökte hon själv en lång och låg form som hon lyfte sig ifrån när så blev tid. Fin galopp och så härlig! (Men tungan var tvungen att jobba än hårdare då och kom nästan utanför munnen. Det är så kul att se hur hon visar så mycket med munnen, när kroppen tar emot, när hon jobbar bra eller inte är helt engagerad…)
Pepper däremot vart en besvikelse, han har sett bra ut, men inte idag. Nu är bara frågan om det inte blivit bra eller om han halkat och dragit upp problemet igen…
Tea däremot, vilken häst! Hon följde med på promenad nästan någon kilometer utan annat sällskap och är så lätt att ha med! Bilen vi mötte var något obehaglig, men det gick bra.
Igår red jag återigen kort på Bunny tills David sa ifrån och promenerade Pepper. Tyvärr visade det även sig att Embla fått en hovböld och veterinären fick komma förbi. Då passade jag även på så att Embla vaccinerades, liksom Tea och Bunny.
Maria pysslade med Percy idag.
Ups and downs
Today Calinka made one of her best long reining sessions ever. She was focused from the beginning, working nicely. Her tongue reviled her as is was moving from side to side inside her mouth, that she kept slightly open. She soon searched a long and low frame but got higher and shorter when warmed up and more demanding work started. She got a good canter and was so much fun to work! (But her tongue had work all the time, moving even more when she had to concentrate more. Her mouth really reveals how she is working, focused, stiff or working good…)
Pepper was a disappointment; he has looked fine lately but not today. The only question is if he never got better or if he has injured himself again…
Tea on the other hand; such a horse! She joined me on a walk, about 20 minutes. We meet a car, but that also went ok. She is so easy going!
Yesterday I rode Bunny very shortly until David had enough and then walked Pepper.
Today Maria played with Percy.
http:///ullekalv.se/wp-content/uploads/2015/09/ullekalv_header_logo.png
0
0
Ingrid Amadori
http:///ullekalv.se/wp-content/uploads/2015/09/ullekalv_header_logo.png
Ingrid Amadori
2013-12-05 21:40:00
2013-12-05 21:40:00
Upp och ner