Att lösgöra på effektivaste sättet
Calinka är egentligen pensionär sedan snart ett år tillbaka. Hon visade ett par gånger att hon bara kunde trilla ihop från galopp. Som om benen inte bar. Det verkar bara vara på dressyrbanan, men jag vill inte chansa. En gång stukade jag foten ordentligt, när det hände en annan gång tömkörde jag. Turligt nog verkar Calinka inte tagit skada. Visste kund jag utreda henne, men min känsla har varit att det här har en del med hennes ålder att göra, att hon för en kort sekund tappar kontrollen/orken eller vad det nu är över benen.
Men för att ändå få uppmärksamhet och ha en uppgift använder jag henne för att ta med övriga hästar som handhästar. Kanonbra både för högdräktiga ston och unghästar. Vi håller oss i skritt. Däremot vet jag att Calinka behöver dressyr för att jobba igenom, för att inte stelna till helt. Det har hon behövt i många år. I tömkörning kan jag låta henne gå lite snabbare, trava och galoppera  en del. Men, jag lyckas inte komma åt henne på alla punkter i tömkörningen så jag rider dressyr då och då för att få henne mer lösgord, för att få henne att "komma igenom" mera. I början av passen ser man hur hon gäspar och stretchar tungan och lyckas jag känner jag hur bakbenen arbetar bättre när vi slutar.
Mycket går att göra i skritt, öppnor, slutor, bakdelsvändning, skänkelvikning, volter… Men, för att jag ska få igenom Calinka behöver jag ofta lite fart. Hon verkar behöva sträcka ut benen i trav, kröka ihop kroppen i en galoppfattning. Så, jag började med att be om ett par steg i trav och det tar emot. Man känner hur det är jobbigt, men efter ett tag går det lättare och lättare, vi kan trav genom en hörnpassering eller en volt. Men, det är korta, korta pass. Några steg hit, några dit eftersom min känsla är att hennes problem dyker upp när hon blir trött eller ouppmärksam så jag måste hålla henne alert hela tiden och inte överarbeta. Efter ett tag började jag lägga in galoppfattniningar på samma sätt. Ofta hjälper det bara att hon tänker galopp, gör ett försök som kasnke inte blir ett språng ens en gång. Ett par fattningar och hon kan sträcka ut mycket mer i trav. Kommer igenom, mjuknar, ryggen swingar plötlsigt helt annorlunda.
Calinka är väldigt tydlig med när det går lätt – eller tungt så jag känenr väl hur hon uppfattar olika övningar, men detta sätt att arbeta har varit väldigt kul. Givande att se hur vissa rörelser, bara ett fåtal gånger, kan mjuka upp hela hästen. För, jag måste minimera allt som inte är skritt och inte heller trötta ut henne där, hon måste vara pigg hela passet. Effektivitet i allt, men även pauser. Sluta så fort målet är nått. Ett lite nytt sätt att tänka för mig,  som jag tror jag kommer att använda även i andra fall.
To get the horse to soften up with minimal work
Calinka is retired since about a year ago. She just fell down from canter a couple of times. As if her legs couldn't carry her any longer.It only happened while doing dressage, but I don't wont to try and se if it happens outdoors as well. Once I sprained my ankle, another time I were long reining her so I got out of the way. Luckily Calinka don't seem to have injured herself. I could go and check her all over for this problem, but my feeling is that it has to do with her age, that she for a second looses focus or her power over the leg.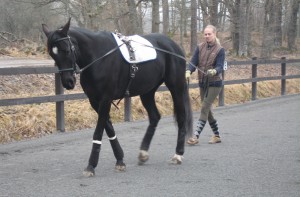 To give her attention and a work I use her to pony the other horses. It is perfect with pregnant mares and young horses. We just walk for some time. But, Calinka also need dressage to work properly, to get stretched out. She has needed that for many years.I can let her trot and canter on long reins but I don't really manage to get her stretched in all aspects.. So I also do dressage. In the beginning she often yawn and stretch her tongue and if I manage to work her correctly I feel that her legs swing better when we finish.
I can get her to do a lot in walk, haunches in, haunches out, side-pass, circles… But, I have learned that to get those legs to swing well I have to get some speed. It seems as she need to stretch the legs in trot, curl her body while starting the canter. So, I only ask her for a couple of steps but she finds that very hard in the beginning. After some time it get easier and we can trot a corner or a circle. But, only, short, short trot sessions. As I think her problems starts when she is out of focus or get tired I need to change what I do all the time but to tire her out. Them to get the trot better I ask for canter. Often just that she thinks and try to canter makes her tort much better. Her hind limbs starts to swing. Her back starts to swing in another way, she carries herself much better.
It is so easy for me to feel when I have succeeded with Calinka or not. I find her very easy to read. It has been very fun and interesting to work like this. I have realized how some exercise and movement makes a very big differences. That I don't need to do them very many times. Cause, I have to get her relaxed as fast as possible so I don't tire her. Even, if she needs pauses. As soon as we reach the goal we head back to the stable. To me it is a little bit of a new way to think, that I probably am going to use otherwise as well.
http:///ullekalv.se/wp-content/uploads/2015/09/ullekalv_header_logo.png
0
0
Ingrid Amadori
http:///ullekalv.se/wp-content/uploads/2015/09/ullekalv_header_logo.png
Ingrid Amadori
2017-03-11 07:16:13
2017-03-11 07:16:13
Att lösgöra på effektivaste sättet