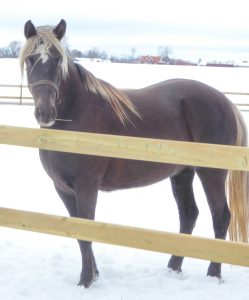 Emblas matte har, efter mycket tänkande, bestämt sig för att sälja sin häst. Jag har fått uppdraget att hitta hennes nya hem.
Ullekalvs Embla är född 2013 och det första rocky fölet som är "tillverkat" och fött i Sverige. Mamma är mitt sto Percy (RPM's Silver Persuasion) och pappa min hingst Black Pepper.
Hon är silversvart och befinner sig nu hos mig, där hon fungerar bra i stoflocken. Hon är riden och körd, men inte så utbildad. Ägaren har inte tränat tölt så mycket, men den finns där och just nu arbetar vi för att certifiera henne. Galopp är annars en favoritgångart.
Embla har inga skador/sjukdomar och har aldrig varit skodd.Vargtänderna är bortplockade, men ägaren har bara ridit/kört bettlöst, nu har vi provat med bett ett par gånger bara för att visa henne det.
Hon är vänlig och kommer gärna upp och ser vad man har för sig. Hon är omkring 150 cm hög och silersvart. Hon har varit kontinuerligt försäkrad i samma bolag sedan hon föddes och har bara haft en ägare sedan hon flyttade ifrån Ullekalv som sex månader.
Mer information om henne kommer framöver, ställ gärna frågor.
Embla for sale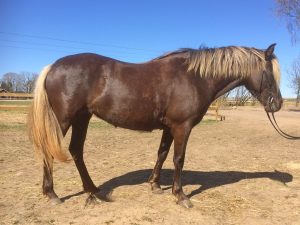 Emblas owner has, after a lot of thinking, decided to sell her horse. I am going to find the new owner for her.
Ullekalvs Embla is born 2013 and the first rocky that is born and bred in Sweden. Her mum is my mare Percy (RPM's Silver Persuasion) and her father my stallion Black Pepper.
She is silver black and now lives at my place, where she fits well in with the other mares. She is ridden and driven with a carriage, but not very educated. The owner hasn't bother about the gait, but it is there and we are working on to get her certified. She loves to canter.
Embla has no known injuries/illnesses and has never worn shoes. The wolf teeth are gone, but the owner has only worked her in bitless bridles. We have tried bit a couple of times and she does well in that to.
She is friendly and likes to see what is happening or just greet you. She is about 150 cm in hight and silver black. She has been insured in the same company since birth and only had one owner since she moved form Ullekalv at six months of age.
More information about her in the future, but feel free to ask questions.
http:///ullekalv.se/wp-content/uploads/2015/09/ullekalv_header_logo.png
0
0
Ingrid Amadori
http:///ullekalv.se/wp-content/uploads/2015/09/ullekalv_header_logo.png
Ingrid Amadori
2018-04-22 21:20:46
2018-04-22 21:20:46
Embla till salu