Det blir inte alltid som man tänkt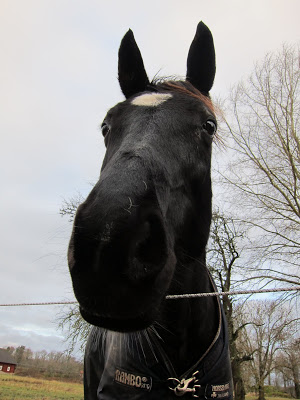 Söndagen var vigd åt hästfotografering inför hemsidan som Mariah ska ordna med. Dagen var vald eftersom vädret skulle bli fint och vi skulle vara tre personer som kunde hjälpas åt. Och allt blev precis så där bra – förutom att jag innan solen ens gått upp och börjat gnistra i snön hamnade på sjukhus med sonen. Förkylningsastman slog till igen utan förvarning…
Såja, hade vi kunnat komma iväg hade det nog blivit underbara bilder, Calinka hade fått motion och troligen hade jag suttit upp på Pepper. Nu blev det en snabbare vända till stallet när ljuset redan började avta och även om Pepper fick komma ut och jobba en stund blev det inte av att sitta upp. Och så klart blev det inga kort. Istället satt jag och författade det sista på brevet om omprövning i ärendet att få starta företag omkring mina hästar när sonen somnat på sjukhuset. Även det skulle ha blivit klart under dagen och hamnat i brevlådan, men nu fick det vänta till idag.
I alla fall är vi alla hemma och mår bra (efter ett dygn på sjukhus). Det är bara frusterande när det hela tiden kommer saker emellan som hindrar att man kommer vidare. Nåja, det är bara att ta nya tag och vara glad för att det inte var något värre.
Sunday was dedicated to make photos for the home page that Mariah is going to make. The day was chosen as the weather should be beautiful and we were three persons to arrange it. And everything turned out to be that good, except that even before the sun even rose and started to glitter in the snow I got to hospital. "Cold asthma" struck my son again without warning.
So, it could have been wonderful pictures, Calinka could have had worked in the snow and probably I had got on Peppers back. Instead it became a rather fast visit and even if Pepper got some ground work I never made it on his back. And of course there was no photos. Instead I wrote the last words in my complaint to the authorities about their denial of starting a company around my horses when the son had felt asleep at the hospital. Even that should have been done during the day, and been put in the mail but it had to wait until today.
After all we are all at home (after one day in hospital). It is just so frustrating when things seems to come in between all the time and stop the process. Well, I guess I just have to be happy that nothing worse happened and find a new day for the photos…
http:///ullekalv.se/wp-content/uploads/2015/09/ullekalv_header_logo.png
0
0
Ingrid Amadori
http:///ullekalv.se/wp-content/uploads/2015/09/ullekalv_header_logo.png
Ingrid Amadori
2012-01-09 22:07:00
2012-01-09 22:07:00
Det blir inte alltid som man tänkt