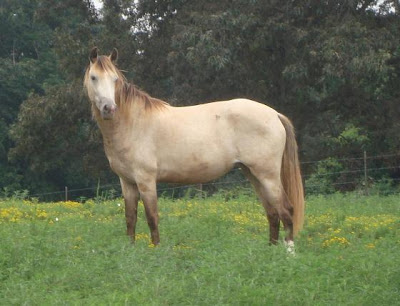 Nu i fälltider funderar jag på om någon har bytt min häst? Mig veterligen köpte jag en silvergulbrun häst, som mest var gul (bild från säljaren i augusti förra året), eller den i smutsig vinterpäls från efter att hon kommit till mig.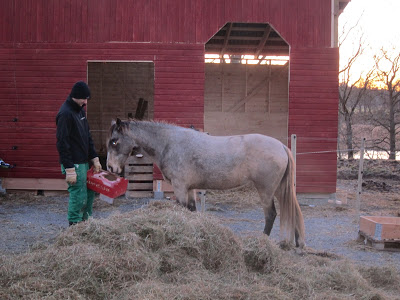 Men nu är det detta som står i hagen, en varmt gul chokladfärgad häst. Hade det inte varit för att det fortfarande finns gula tussar kvar skulle jag verkligen undrat vem som bytt ut min häst över natten. Och nej, jag vet inte om den nya färgen är "snyggare", men helt klart förvånande. Så ankunge till svan vet jag inte om det stämmer helt. Dessutom ser manen plötsligt mycket längre ut! Och ja, sadeln är lång på henne, men den är bomlös och är inte tänkt som långtids sadel.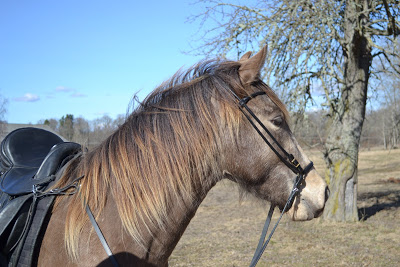 Det ska bli spännande att se hur hon ser ut när all vinterpäls har försvunnit helt! Jag som trodde att jag bara hade en häst som bytte färg (konstantskimmeln Pepper).
Now shedding I starts to wonder if someone came and gave me another horse? According to my knowledge I bought a silver buckskin that looked mostly yellow (at least in the vendors August picture above) or when she arrived in got herself a dirty winter coat.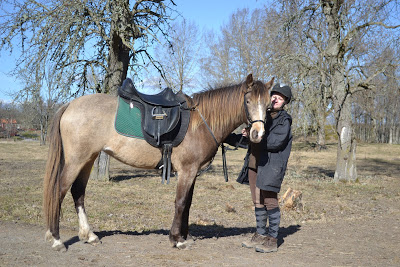 But now there is something totally different in the pasture – a warm chocolate yellowish kind of horse. If it hadn't been because of the yellow hair that still remains a little bit in different places I really would have wondered who changed my horse during night. I don't know if the "new" color is prettier or not, but surprising for sure. And the mane has grown as well. And yes, the saddle looks really big, but as it is a treeless it is a little bit different from others and this is a solution just for the moment.
It is going to be interesting to see what she is going to look like when all winter coat is gone.I that thought that I just had one horse that would change color (the roan Pepper).
http:///ullekalv.se/wp-content/uploads/2015/09/ullekalv_header_logo.png
0
0
Ingrid Amadori
http:///ullekalv.se/wp-content/uploads/2015/09/ullekalv_header_logo.png
Ingrid Amadori
2012-03-24 18:32:00
2012-03-24 18:32:00
Ankungen blev en svan?