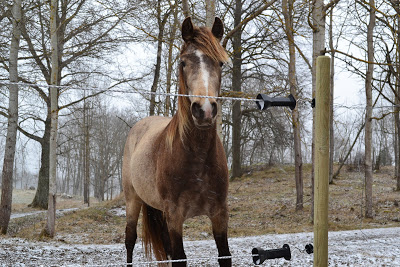 Måndagen var inte den dag då jag hade mest inspiration. Nåja, Percy blev tömkörd och hon uppförde sig bra. Men hon har svårt att riktigt ta styrning och gillar inte riktigt bettet. Kan det vara vargtänderna tro? På bettlöst beter hon sig inte alls så. Nu blev det i vissa fall Spansk skritt för att undkomma trycket i munnen och jag släppte efter så fort hon gjorde rätt.
Calinka fick även hon en tur, omkring 40 minuter på vägarna i närheten. Jag trodde att jag hittat en ny väg, men det visade sig vara en återvändsväg.
Monday wasn't the day when I was most inspired. Well, I got Percy long reined and she behaved well. But she has some problems with turning and doesn't really like the bit. It might be the wolf teeth. Now she made some Spanish walk to get away from the pressure in her mouth even if I tried to give her as little pressure as possible – I only wanted her to turn when I asked her to.
Calinka and I went for 40 minute on the roads in the neighborhood. I thought I had found a new road, but it turned out to be a "dead end".
http:///ullekalv.se/wp-content/uploads/2015/09/ullekalv_header_logo.png
0
0
Ingrid Amadori
http:///ullekalv.se/wp-content/uploads/2015/09/ullekalv_header_logo.png
Ingrid Amadori
2012-04-03 16:56:00
2012-04-03 16:56:00
Dålig inspiration