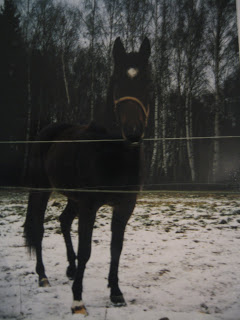 Kalle's favorite horse and the mare belows offspring
En sensommarkväll för sådär 18 år sedan knackade det på mina föräldrars dörr och en granne frågade om möjlighet till betesmark följande sommar. För att göra en lång historia kort så följde jag med grannen till travet påföljande dag och började hänga i hans stall. Idag såg jag i tidningen att han nyligen har dött. Han (eller var det kanske hans hästar?) lyckades få mig att under flera av tonåren gå upp tidigare på morgonen på helgerna än i veckorna för att hinna upp till hans hästar och kanske få hjälpa till att sela på när det skulle ut och köras. Om det nu inte fanns någon häst för mig att rida, eller några hästar som skulle in till banan och träna. Eller så umgicks jag bara med hästarna. Hans stall var anledningen till att mina lördagar blev synonymt med "Ring så spelar vi" och "Melodikrysset". P4. Det var stället där jag fick hantera unghästar, följa fölungar och vara med på travtävling.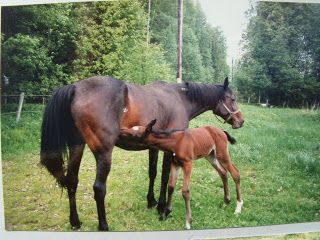 Calinka's half sister after her carrier at Kalle's place. He raised, trained, raced and breed her. The foal was the last horse I broke at his place some years later while I already owned Calinka.
Kalle, som han hette, hade levt ett arbetsamt liv, om jag minns och förstått rätt började han köra med häst i skogen i fjortonårsåldern och jobbade även på sjön en period innan han gifte sig. Redan när jag lärde känna honom såg han urgammal ut, lite krökt, slitna hästkläder och grått hår. Obestämd ålder, jag tyckte alltid han måste vara minst 70 år. Idag lärde jag mig att han blev 82 år. Men glimten i ögat, om det var något han kunde var det att snacka skit, med honom blev det inte många djupa diskussioner desto mer slänga käft.Slänga käft och retas lite lätt. Jag hör honom fortfarnde fråga efter pojkvänner och säga att jag (som fjortonåring) riskerade att hamna på glasberget. För att inte tala om hans "snögar" och snuset i mustachen.
Jag vet en kompis som tyckte han var otäck och elak – och visst kunde han se arg ut om han ville – men innerst inne var han så snäll och gullig. Jag minns hur han klappade sin favorithäst under åren jag var där. Jag minns hur han döpte många av sina fölungar med epitetet "My" – efter sin fru May. Trots att vi var så olika i ålder, utbildning och många intressen trivdes jag väldigt bra. Jag lärde mig mycket. På senare år har vi inte haft mycket kontakt, men jag har en ständig påminnelse – Calinka My, en av de hästarna jag kom att följa från den dag hon föddes i hans stall.
A summer evening about 18 years ago a neighbor knocked on my parents door and asked if we had any pastures for rent.. To make a long story short I joined him to the Standardbred race track the following day and started to spend time in his stable. Today I read in the paper that he died a few days ago. He (or his horses) managed to get me up earlier during the weekends for many of my teenage years so I would be there when they drove and it was time to harness up the horses. Or if there was a horses that I could ride, or horses that was transported to and trained at the race track. Or I just enjoyed the company of the horses. His stable was the reason that my Sundays turned out to be about a couple of radio shows. It was the place where I learned to handle youngsters, followed foals and visited the race track.
One of the horse that I broke at Kalle's place. And a full brother to the mare with foal above. In full racing condition while this photo was made.
Kalle, as was his name, had lived a hard working life, starting about the age of fourteen, if I remember right, to work in the forest , getting the timber out with the help of horses. He also worked at the sea for a while before he got married. When I learned to know him he felt old, a little bent, worn farmers clothes and grey hair. Always with a undefined age, but at least 70 in my eyes. Today I learned that he got 82. But the light in his eyes, and if something he knew how to talk bullshit. We didn't have many deep conversations but a lot of fun. I can still hear him ask me about boyfriend when I was fourteen, telling me that I would end up on the "glass mountain (= unmarried) if I didn't find anyone soon. Not to speak of his very special dialect while saying "snow" and the snuff that was caught in his mustache.
I know a friend that thought that he was scary and mean – and he could look angry if he wanted to but he was a sweetheart. I remembered when he patted his favorite horse. He named many of his foals with the end "My" – after his wife May. Even if was was different in aged, education and many interests I loved to see him. He also taught me a lot. In later years I have hardly seen him, but I have a constant remembrance – Calinka My, one of the horses that I followed since the day she was born in his stable.
http:///ullekalv.se/wp-content/uploads/2015/09/ullekalv_header_logo.png
0
0
Ingrid Amadori
http:///ullekalv.se/wp-content/uploads/2015/09/ullekalv_header_logo.png
Ingrid Amadori
2012-08-23 17:27:00
2012-08-23 17:27:00
Calinkas uppfödare