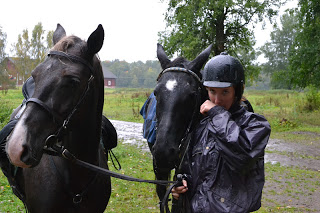 Back in the stable.
Linda, en gammal kompis, kom på besök och i väntan på henne passade jag på att pyssla lite extra med alla hästarna. Calinka fick massage, Percy och Bunny fick sina manar och svansar omhändertagna och Pepper – honom han jag inte till innan Linda var framme. Så jag fick borsta honom medan Linda var på plats.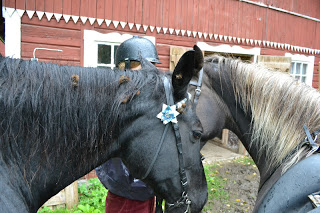 Brought home some thistles.
Percy hade verkat lite öm kring nacken så efter lite funderande bestämde jag mig för att ta Bunny istället. Första ridturen på henne. Linda fick Calinka. Vi red iväg "över sjön", en tur vi bara tagit en gång tidigare, i våras. Nu hade de kört en kort bit med maskin så hästarna sjönk till kotorna. Calinka försökte klättra på kanterna, men Bunny följde snällt. När leran var slut blev det istället väldigt hög vegetation. Svårt att hitta den väldigt smala vägen, och på båda sidor är det vatten. Calinka tvekade många gånger och efter ett tag gick hon för långt åt vänster – och fastande. Hon fastade så illa att hon ramlade. Jag hann bli rädd att hon skadat sig, men hon kom upp och verkade ok bara ryttaren kommit av henens rygg. Så kom diket och Bunny gick bara rakt över. Linda satt upp igen och så fick vi tränga oss igenom gamla tislar och hög vass en kort bit till. Sedan vart det en vall där vi kunde öka lite tempo. Bunny gillade det!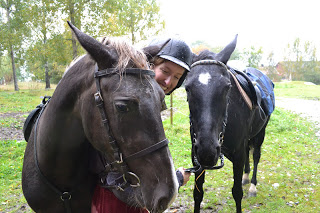 Hela tiden fokuserade jag mer på allt annat än Bunny, det var som om jag ridit henne många gånger tidigare. Hemvägen hoppade jag av när vi nådde asfaltsvägen och så gick vi hem. Vilken tjej! Linda i sin tur var helförtjust i Calinka " Man kan ju inte tro att hon är en travhäst, så lätt som hon är att rida". Jag kunde inte tro att jag ridit en häst som bara har sådär 30 dagars träning och som jag inte ens vet om hon varit ute i skog och mark.
Linda, an old friend, came to visit. While I waited for her I got time to groom the horse a bit longer. Calinka got some massage, Bunny and Percy got their manes and tales de-tangled. And Pepper – I never got to him until Linda arrived but I groomed him a bit as well.
Percy seemed a little tenses around her neck so I decided to use Bunny instead. My first time on her back. Linda got Calinka. We trail rode "across the lake", a rode we have only taken once before, in the spring. Now some machines had been there and made the first part muddy – the horses sank to their pasterns. Luckily it was only 10 – 20 meters. Calinka tried to climb the borders, but Bunny took it all easy. When the mud finished there was a lot of vegetation. Hard to find the thin road. And both side is water. Calinka hesitated many times and once she went to much left. She got stuck in the mud there, she fell as well as her rider. I started to get worried, but Calinka got back on her feet and seemed ok. Then we got a ditch and Bunny just followed Calinka, not hesitating a second. Linda got back on Calinka's back and shortly afterward we had to get thru thistles and other tall plants. Finally we got to an open space and could speed a a little. Bunny liked that!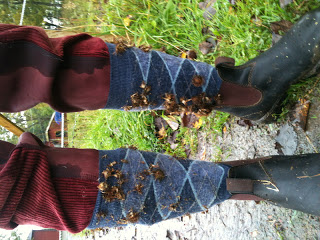 Thistles even here…
All the time I focused more on everything else than Bunny, it was as if I had rode her a lot before. On the way home I got of her back when we reached the asphalt road. What a girl! Linda liked CAlinka a lot " You can't get that she is a trotter, she is so easy". I couldn't believe that I had been on a horse that just had about 30 days training and maybe ever had been trail riding.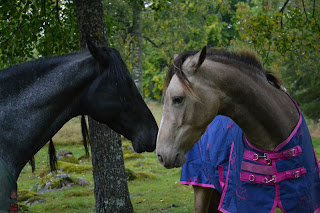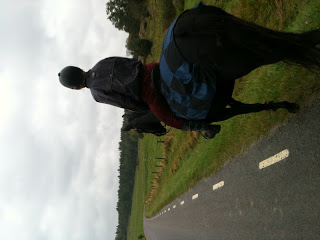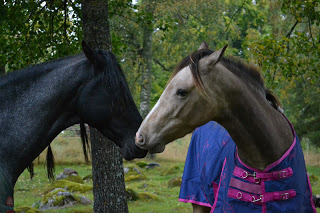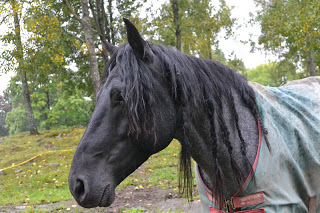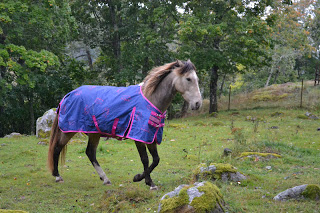 Percy is so sweet in this rug, she got it as it poured down and she seemed a bit tense.
http:///ullekalv.se/wp-content/uploads/2015/09/ullekalv_header_logo.png
0
0
Ingrid Amadori
http:///ullekalv.se/wp-content/uploads/2015/09/ullekalv_header_logo.png
Ingrid Amadori
2012-09-23 11:48:00
2012-09-23 11:48:00
Jag har ridit Bunny!