För en dryg vecka sedan skickade jag efter en "equine colostrum refractometer" från
Animal Reproduction System
i USA. Det blev billigare än att köpa den från deras svenska återförsäljare trots att frakten gick på mer än själva refraktometern… Idag kom den i alla fall och den ser jättefin ut. Nu ska det bli spännande att se om den fungerar så bra som jag hoppas.
En refraktometer används för att mäta densitet hos vätskor. Denna är speciellt anpassad för råmjölk hos ston. På så sätt kan man se om stoet har tillräckligt bra kvalité på mjölken eller om fölet riskerar att inte få i sig vad den behöver. I så fall kan man tillkalla veterinären och ge plasma eller försöka få tag på bättre råmjölk innan fölet blir sjukt. Dessutom sägs det enligt vissa att den kan användas för att förutspå fölning då värdena på råmjölken går upp kraftig inom något dygn eller ett par innan fölning. Om det är bra att mjölka ur ett par droppar flera dagar i rad innan fölning finns det däremot olika uppfattning.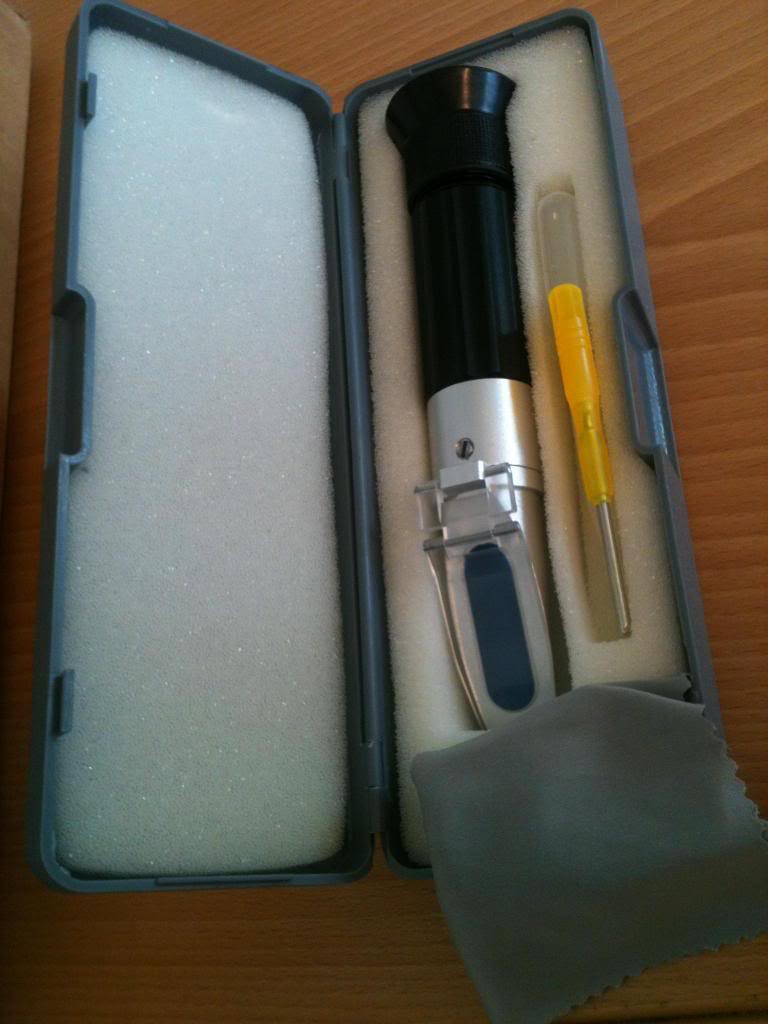 It even came in a box
När jag jobbade som djursjukvårdare använde vi en refraktometer för att mäta urindensitet och denna ser ut att vara lika enkel. Man lägger ett par droppar vätska på glaset, stänger locket och ser till att det inte finns några luftbubblor. Sedan kollar man i kikaren efter 30 sekunder och ser då var man får en linje. Eftersom denna refraktometer är anpassad för råmjölk hos häst ingår en relevant sskala och notering om vad som är bra respektive dåligt. När man är klar är det bara att torka av glaset och så är den redo att använda igen och igen. Ibland bör man kalibrera den genom att mäta destillerat vatten och eventuellt ändra genom att skriva på en skruv. Lätt som en plätt skulle jag tro.
About a week ago I ordered an "equine colostrum refractometer" from
Animal Reproduction System
in USA. It became cheaper than to by it from their Swedish distributor even if the shipping cost more than the instrument it self… Today it arrived and it looks good. I am curious to see if it is going to work as I hope.
A refractometer is used to measure density in liquids. This one is specially designed for colostrum from horses. That way it is possible to see if the colostrum is good enough for the newborn foal or if it needs help from the vet or colostrum from another mare before the foal get sick. According to some people it can also be used to predict foaling as the milk changed close to foaling (hours or one too two days). If it is good to milk the mares for a few drops days before foaling is another issue that I have heard different opinions about.
When I worked as an animal nurse we used a refractometer to measure the density of urine and this one looks as simple. You put a couple of drops of colostrum at the glass, close the lid and look for air-bubbles (not wanted). Then you look in the binoculars after 30 seconds and see a line. As this refractometer is made for colostrum the scale in it is suited for this use and you instantly see if it is a good or not as good quality of the milk. When done it is only to clean the glass and it is ready to be used again and again. Sometimes it needs calibration, that is done in the same way but with distilled water. Piece of cake, I would guess.
http:///ullekalv.se/wp-content/uploads/2015/09/ullekalv_header_logo.png
0
0
Ingrid Amadori
http:///ullekalv.se/wp-content/uploads/2015/09/ullekalv_header_logo.png
Ingrid Amadori
2013-02-11 19:14:00
2013-02-11 19:14:00
Refraktrometer