Ännu en gång har calinka lärt mig något. Idag blev det tömkörning för att hon skulle få röra lite på sig. Jag har inte velat att hon skulle gå på böjda spår tills benet fått träna upp sig, men idag hade jag ingen annan möjlighet. Så, tömkörning och benskydd fick det bli. Lärdomen då?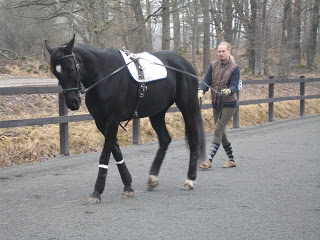 Various old long reining photos of Calinka
Calinka har tappat ena bakbenet vid ridning några gånger, vilket verkar bero på att hon är trött. Vid tömkörning såg jag att hon från början var kortare i steget på höger bakben. Det blev en del övningar för att stretcha ut benet och det såg ok ut även om hon inte riktigt ville gå i form och var väl framtung. Galoppfattningar brukar kunna hjälpa, så jag testade det. Plötsligt blev problemet tydligt – hon fick inte med benen vid fattningarna. Hon hoppade nästan jämföra bak, eller så såg hon ut som om hon skulle halka. En gång "tappade" hon benet. Det kan verka grymt att jag fortsatte, men precis som jag trodde blev det bättre för varje försök. Vilan har helt enkelt gjort henne så stel att hon har svårt att ta en bra galoppfattning. Nu jobbar vi vidare, framtiden får utvisa om hon behöver hjälp av kiropraktorn för att lossna helt.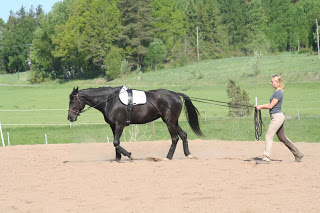 Den viktigaste lärdomen från dagen? Man kan få en känsla för vad som är problemet när man ser hästen från en annan vinkel och få en aning om vad det är man känner när man sitte ri sadeln.
Calinka – my teacher
Once more Calinka has tought me something. Today I long reined her as I wanted her to move a little bit more. I have not wanted her to work on bent lines before her leg is totally fine but today I had no other choice. So, back to the lesson. Calinka has "lost" her hind leg some times recently while being ridden.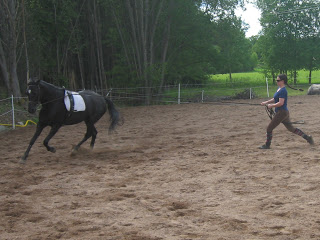 As soon as I started to long rein I noticed that her right hind foot took shorter steps than the left. So we started of with excersies that would stretch her leg. When we came to canter the problem got even more obvious; she could hardly start of. Her hindlegs jumped nearly together, she was out of balance, just had a very hard time. The rest seems to have stiffen her up, it was also seen as she was more front heavy and not in such a nice frame as usually. It might seem harsh but I continued to ask her for canter and each time she got better and better. Her body got better and better as she got stretched. Now we have to continue to work her, but I think the problem will get better and better. If not I have to contact the chiropractor.
Most valuable lesson? To watch the horse work from the ground can give you clues about what is wrong and what you feel while in the saddle.
http:///ullekalv.se/wp-content/uploads/2015/09/ullekalv_header_logo.png
0
0
Ingrid Amadori
http:///ullekalv.se/wp-content/uploads/2015/09/ullekalv_header_logo.png
Ingrid Amadori
2013-09-16 18:53:00
2013-09-16 18:53:00
Calinka – min lärare