Pepper tränar i terrängen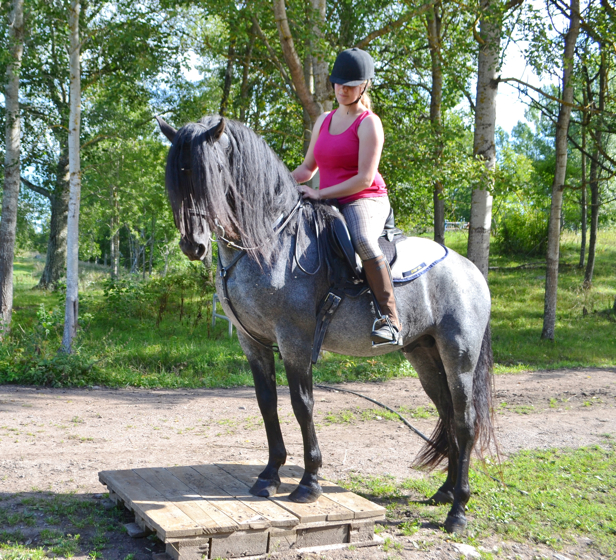 Pepper "stepping up"
Under onsdagen kunde jag enkelt fånga in Pepper, även om han tvekade först. Jag fick allt lov att rida Calinka först (vilket visade att jag fortfarande hade träningsvärk av måndagens barbackaritt). Sedan fick jag tag på honom och började våran tur med ett varv i hagen – SUPERKUL – sa Pepper och ville öka farten. Över stock och sten, under träd och över diken fanns ingen tvekan. Farten höll även nere på ridbanan så det blev lätt en galopp och ett dressyrpass som jobbade på att hålla igång framåtbjudningen (som annars kan vara sådär på banan).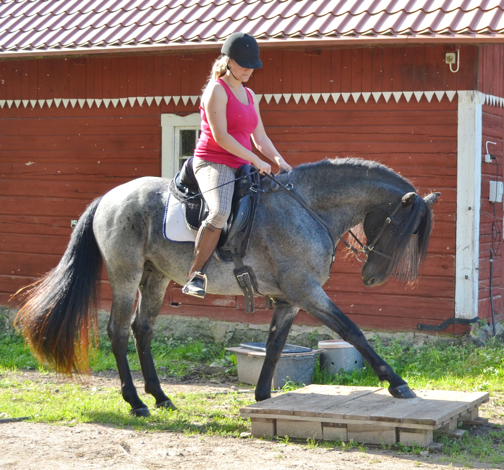 Nanette fick prova Pepper för andra gången idag och det fungerade bra. Lite dressyr och lite promenad i hagen blev det även för henne. (Se bilderna). Sedan provade vi att låta Bunny och Tea gå upp på lastpallen. Det filmades, så hur det gick kommer senare. Tea fick dessutom prova att stanna själv i boxen (med Calinka i boxen bredvid) medan Bunny kollade in lastpallen. Inga problem det heller!
Pepper in the terrain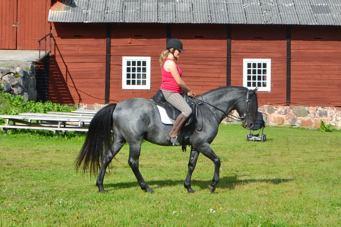 Walk, and yes it is a stroller in the background…
During Wednesday I managed to catch Pepper easily, even if he wasn't all happy about it. I had to take a trip with Calinka first (that proofed to me that I still had to some muscle ache since I rode bare back a couple of days earlier). The I brought him in, tacked him up and started with a lap around the pasture. Over the stones, under trees, over ditches, he didn't hesitate a moment. He even wanted to speed up – SUPER FUN – was his thoughts about it. He kept his speed when we got to the arena so we focused on that (s he can be rather lazy in the arena) and we easily got a canter.
Nanette tried Pepper the second time today and it worked well. A little dressage and a walk in the pasture. (The pictures). Then we tried to get Bunny and Yea on the step. We filmed that, so as soon As I have prepare that I am going to show the film. Tea also got to stay alone in the stall (with Calinka in the stall beside her) as we worked on Bunny. That worked fine as well!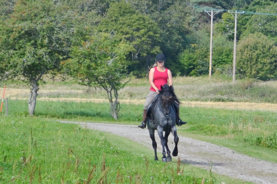 Canter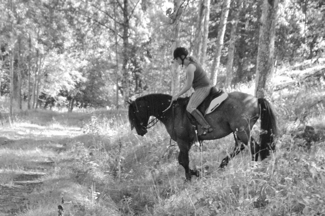 He loves the nature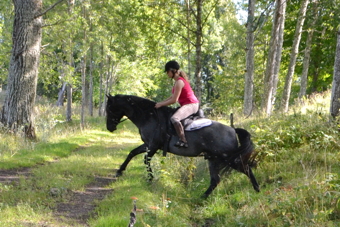 Passing the ditches more easily every time
http:///ullekalv.se/wp-content/uploads/2015/09/ullekalv_header_logo.png
0
0
Ingrid Amadori
http:///ullekalv.se/wp-content/uploads/2015/09/ullekalv_header_logo.png
Ingrid Amadori
2013-09-05 16:54:00
2013-09-05 16:54:00
Pepper tränar i terrängen