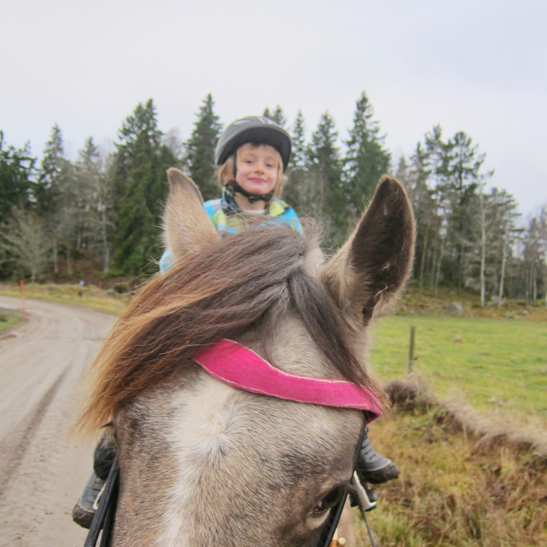 A happy boy!
Eftersom mannen var iväg fick jag ta båda barnen till stallet. Sandra var som tur var där och red ute en vända på Calinka och så tömkörde vi Pepper tillsammans. Isac hjälpte till med miljöträning genom att springa upp och ner på körbanan intill…
Isac har varit sugen på att rida ett tag och denna gång fick han ta Percy. Det var ett tag sedan jag använde henne som barnhäst och har glömt hur smidig hon är. Isac ville gå fortare. Det har jag vägrat när han ridit Calinka – en liten kille på en stor häst som börjar trava och där mamma inte kan hjälpa till att hålla balansen åt honom verkar inte lovande. Med Percy var det en annan sak – hon töltar ju!
(Vilken bonus när man ska lära någon!) Så, jag fick springa (med David i bärsjal). Inte räckte det med en gång utan det skulle helst bara springas mer och mer… Percy verkade också glad – vem blir inte det när ryttaren skiner ikapp med solen? Jag insåg dessutom hur praktiskt rytmhalsbandet var – jag kunde höra att Percy verkligen töltade bakom mig.
The children's horse Percy
As my husband was away I had to bring both children to the stable. Luckily Sandra was there and took Calinka for a trail ride. Then we long reined Pepper together. Isac "helped" as he was running up and down a smal hill beside the arena…
Isac has wanted to ride for some time and this time he got Percy as his mount. It was some time since I used her as child's mount and had forgotten how convenient she is. Isac wants to go faster.I have refused taht while he is at Calinka – a small boy at a big horse that trots doesn't seem to be a good idea if mum can't help with the balance. But Percy is another thing – she gaits!
(Such a bonus!) SO, I had to run (carrying David). It wasn't enough with once either, Isac just wanted to go faster all the time… Percy also seemed happy – how can't be when the rider smiles like the sun? I also realized that the rythem bead helped me hear that Percy really was gaiting behind me.
http:///ullekalv.se/wp-content/uploads/2015/09/ullekalv_header_logo.png
0
0
Ingrid Amadori
http:///ullekalv.se/wp-content/uploads/2015/09/ullekalv_header_logo.png
Ingrid Amadori
2013-11-24 18:23:00
2013-11-24 18:23:00
Barnhästen Percy