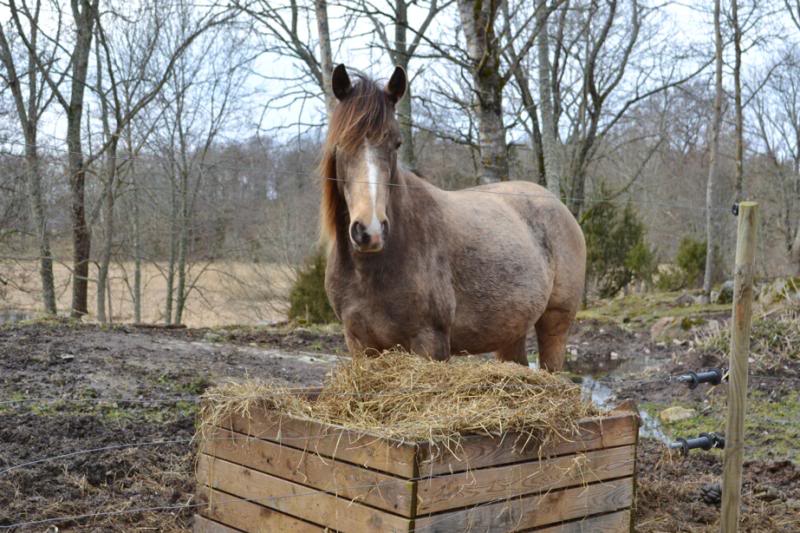 Percy is shedding – she turns brown on her neck!
Promenaden med Pepper fick mig på bra humör, men sedan var det dags att fortsätta och då gick det inte lika harmoniskt. När jag fått med mig Calinka och börjat tömköra henne något varv vaknade David så det var bara att ta honom i bärsjalen. Bara att få på den utan att få den helt lerig var ett smärre företag i sig. I någon förhoppning hade jag gått till ett annat ställe för att tömköra, men det var halt och svampigt överallt i hela marken. Varken jag eller Calinka var så nöjd när vi avslutade det hela, men å andra sidan – hon verkar röra sig helt utan problem och är snart bra. Detta var ett test för att se hur hon såg ut. Bara det är värt väldigt mycket, det kunde gått så mycket värre. Dessutom är det för att orka stunder som denna när varje liten detalj blir jobbig som man behöver dem som promenaden med Pepper.
The harmony left
The walk with Pepper got me in a good mood, but then I continued and wasn't as harmonious. When I had got Calinka along and started to long rein her a lap or two David woke up. The only solution was to carry him in the wrap carrier and to get him in it was hard as it was rather muddy everywhere… I had chosen a different place to long rein just to try to get rid of some mud, but it turned out to be much worse, swampy and full of water…Neither Calinka not I were very happy when we finished. But, on the other hand, she moved nicely and is probably soon fine. This was only a short test to see how she was like. It could have been so much worse. It is for those times, when every detail seems to be out of order that I needed that walk with Pepper.
http:///ullekalv.se/wp-content/uploads/2015/09/ullekalv_header_logo.png
0
0
Ingrid Amadori
http:///ullekalv.se/wp-content/uploads/2015/09/ullekalv_header_logo.png
Ingrid Amadori
2014-03-28 19:06:00
2014-03-28 19:06:00
Inte lika harmonisk