I natt hade jag en dröm – Percy dog. Det var inte en så stark dröm, men för en gångs skull kom jag ihåg vad jag hade drömt lite vagt. En påminnelse om hur mycket jag gillar henne, hur hemskt det skulle vara om hon inte fanns mera. Väl uppe i stallet skulle jag fira Calinka som fyller 19 år. Jag trodde ett tag att Bunny skulle föla under natten eftersom den 30 april är ett speciellt fölningsdatum för mig.
Den 30 april 1994 föddes nämligen det första föl jag fick träffa på, ett litet brunt stoföl med stjärn och två vita bakben. Året därpå föddes Calinka – den 30 april och det andra fölet som jag träffade när det var bara timmarna gammal. Även hon ett sto med stjärn och vita tecken på bakbenen.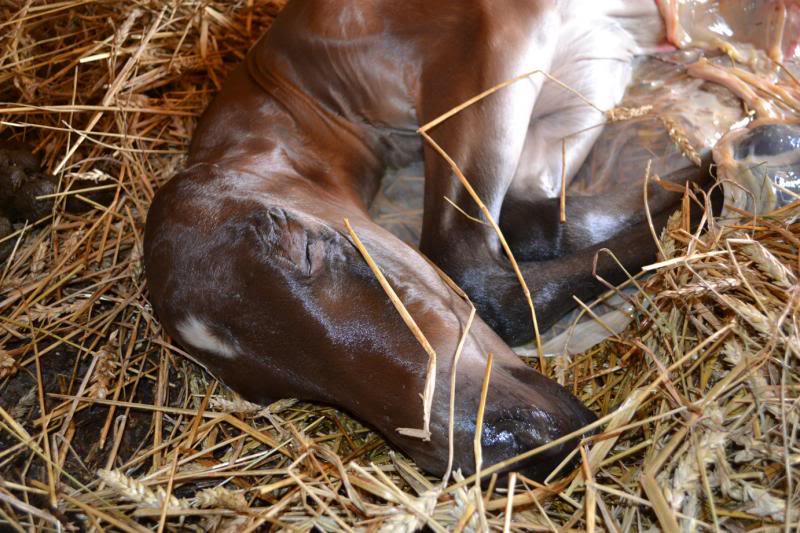 A small star and so sweet.
När jag nu hade ett sto som kunde föla 30 april tänkte jag att det inte alls vore omöjligt, skulle det bli ett stoföl med stjärn och vita bakben skulle jag dessutom nästan bli tvungen att behålla det… Men, Bunny verkade inte redo, så jag sov hemma och lät henne bära Birth Alarmet som vanligt.
När jag kom upp till stallet var allt så rofyllt, alla hästarna verkade sova. Jag släppte in ett par och tänkte låta Percy och Bunny beta lite ute ihop. Sedan gick jag upp till sjukboxen där Percy sovit pga att hovbandagen inte håller för att röra sig hela dagarna i hagen. Där låg hennes föl. En liten hingst visade det sig vara, men fosterhinnor var inte brutna och han var kall. 306 dagars dräktighet, inte hade jag börjat vakta på henne ännu.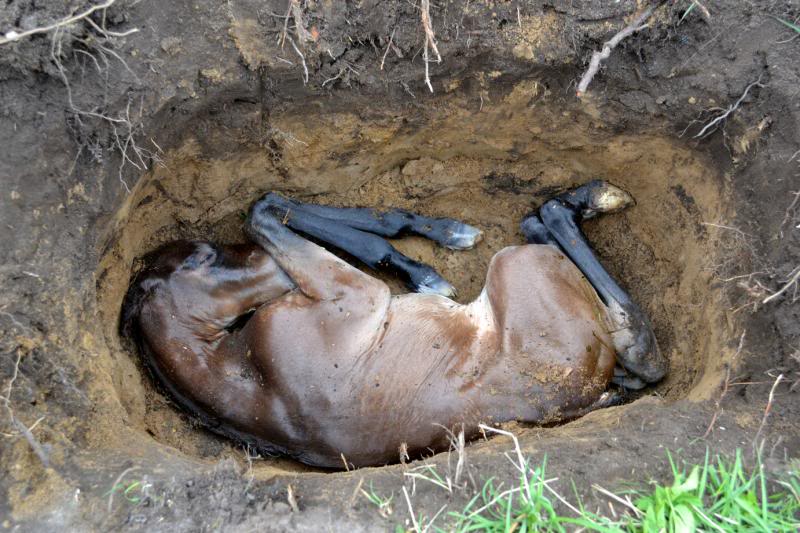 Sleep well, little angel.
Ullekalvs Angelo, en fin, stor hingtunge, troligen brun och konstantskimmel. Trots att han var född så tidigt såg han inte tidig ut. Så bråttom att komma ut, så bråttom att komma till Ullekalv. En häst med en speciel födelsedag; en lite stjärn hade han med och lite, lite vitt på ett bakben. Nu ligger han begravd på Ullekalv, den första Rockyn på gårdens mark. Jag önskar så att det hade tagit en annan vänding.
Percy verkar efter omständigheterna må bra, lite lätt stressad, men annars ok. Det är inte omöjligt att spiken hon fick i hoven orsakade stress och smärta så att fölningen satte igång lite för tidigt. I samråd med veterinär bestämde vi oss för att inte leta vidare efter dödsorsaken.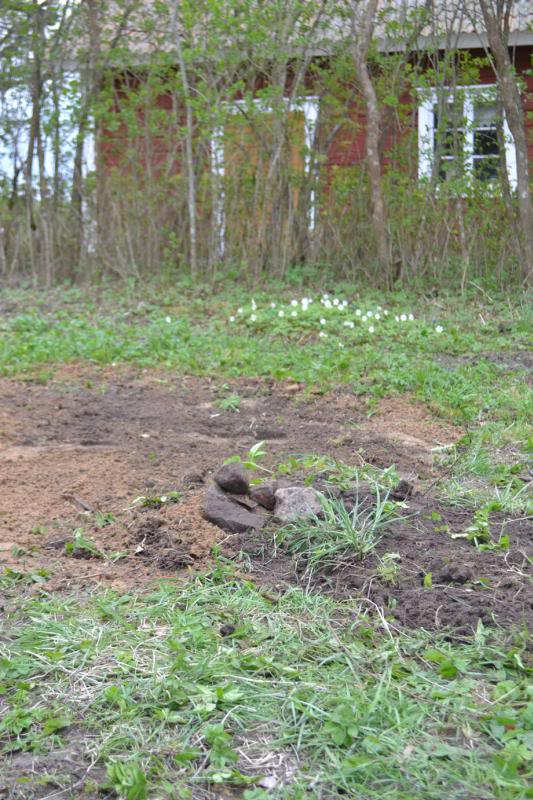 At Ullekalv.
I had a dream last night. Percy died. It didn't wake me up in horror, just reminding me how much I like that horse and how devastated I would be if she wouldn't be around. In the stable I planned to celebrate Calinkas birthday as she turns 19 today. For sometime I thought Bunny would foal tonight as April 30 is a special date for me.
April 30 the first foal that I ever got close to was born. E bay filly with a star and two white hind feet. The following year Calinka was born April 30- a black filly with a star and two white hind feet. The second foal that I got to meet when she was only a couple of hours old.
Now when I had a a mare that could foal April 30 I thought that would be the day. A filly with star and two white hind feet – and how would I then be able to sell such a foal? But Bunny didn't seem to be ready so I left her with the Birth Alarm and slept at home.
When I came to the stable everything was so peaceful, the horses where napping. I let some of them in doors and feed Bunny and Percy in the pasture – then they could graze a little while I pampered Calinka. I got up to Percy's stall where she had spent the night – her hoof bandage break if she is in the big pasture all day. There I found the foal. A small colt but still in the sack and cold. 306 days of pregnancy. I hadn't really started to look closely at her.
Ullekalvs Angelo, a big, beautiful colt, probably bay and roan. He didn't look small at all. But in such a hurry, so in a rush to get to Ullekalv. A horse with a special birthday, with a small star and a little white on one hind foot. Now he is buried at Ullekalv, the first Rocky to get the farm. I wish that thing had been different.
Percy seems to do fine during the circumstances, a little tense, but OK. It is not impossible that the nail she got in the hoof stressed her so that she got in labor a little bit to early. Together with the vet we decides to not look further into why he died.
http:///ullekalv.se/wp-content/uploads/2015/09/ullekalv_header_logo.png
0
0
Ingrid Amadori
http:///ullekalv.se/wp-content/uploads/2015/09/ullekalv_header_logo.png
Ingrid Amadori
2014-04-30 18:55:00
2014-04-30 18:55:00
Ullekalvs Angelo