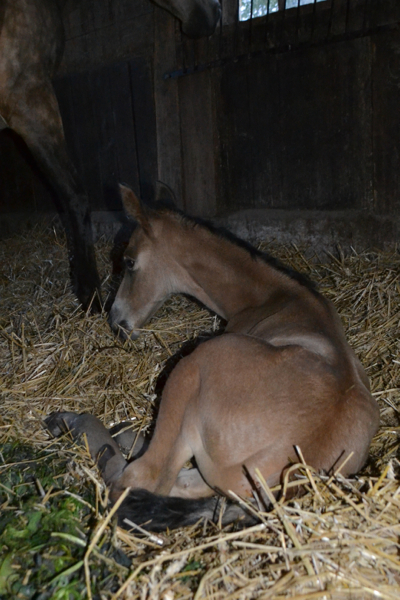 Igår hämtade jag hemma Percy och Iris. Det var en pigg fölunge som mötte mig. Underbart! Efter att Percy tvekat lite valde hon ändå att gå upp på transporten och följa med hem. Nu får de bo på box i åtminstone en vecka tills uppföljande blodprov har tagits. Percy kommer nog inte att vara nöjd, men vad ska man göra? Än verkar Iris nöjd och lär ha rejsat runt boxen.
Ullekalvs Iris Fortunata ja, så är det tänkt att hon ska få heta. Det är Maria som har valt namnet. Iris är nämligen född på Marias födelsedag (en jämn sådan dessutom). Så, som en present fick hon välja namn. Här är hennes motivering till varför:
"Jag är väldigt förtjust i iris eftersom det är 1) regnbågsgudinnan 2) irisen började blomma någon dag innan hon föddes 3) Iris (gudinnan) porträtteras ofta med guldvingar, passar ju bra med färgen. Tyckte att eftersom hon är född i regn, så… trots allt slutade det med en regnbåge.
Har även varit inne på Fortuna, dvs turens/lyckans gudinna. Om man vill kombinera de bägge så finns faktiskt Iris Fortunata, lyckoliljan… som är gul!"
Iris is home again!
Yesterday I brought Percy and Iris home. It was a much more energetic filly that meet me. Wonderful! After some hesitation Percy chose to load onto the trailer and go home. Now they have to stay at stall rest for at least a week until follow up blood analyses has been done. Percy won't be happy , but what to do? At least Iris seems to be happy as she ran around the stall earlier today.
Ullekalvs Iris Fortunata, that is what we plan to name her. Maria chose the name. Iris is born on her birthday, so as a present she got to chose the name. This is her reason why:
"I like Iris very much as it 1) is the rainbow Goddess 2) the flower named iris started to bloom just before she was born 3) Iris (the Goddess) is often seen with golden wings, that works well with her color. As she was born during rain… and it ended with a rainbow.
I have also thought about Fortuna, the Goddess of lucky/fortune. It is possible to combine those to Iris Fortunata – a flower that 's name in Swedish is "lucky lily"… and is yellow!
http:///ullekalv.se/wp-content/uploads/2015/09/ullekalv_header_logo.png
0
0
Ingrid Amadori
http:///ullekalv.se/wp-content/uploads/2015/09/ullekalv_header_logo.png
Ingrid Amadori
2015-06-02 20:54:00
2015-06-02 20:54:00
Iris är hemma igen!