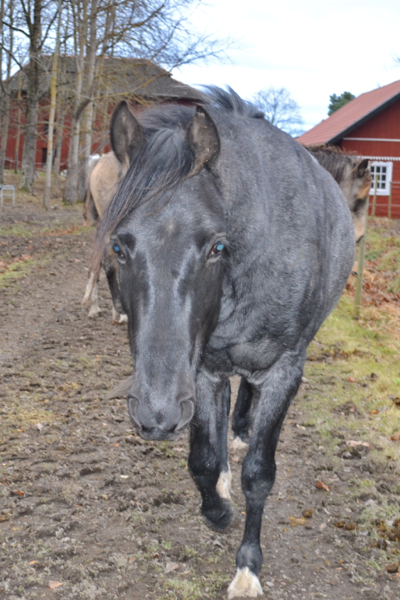 Tea går från klarhet till klarhet. Vi jobbar inte mycket, men det är så kul. Nyligen sadlade jag henne för första gången och sedan gick vi på promenad. Hon rörde inte en min. På väg hem satt jag upp och så skrittade vi hem. Tyvärr hade jag glömt ändra stiglädrena från min mycket kortare medryttare så jag satt som en jockey. Tills hon ville trava. Eftersom hon har varit svår att få att öka under ryttare lät jag henne göra det. Det fungerade bra och så skrittade vi. Nästan hemma bad jag om aning ökning i ett lätt nerförslut och vi fick nästan ett par töltsteg. Duktig tjej!
Sa jag att detta var sent på kvällen så jag lyste våran väg med pannlampan. Dessutom blåste det inte helt omärkbart.
Tea works on
Tea gets better and better. We don't work a lot but she does well when we do. Recently I saddled her up for the first time and then we took a walk. She didn't care at all. On the way back I got in the saddle and rode home. Unfortunately I had forgotten to shift the length of the stirrup leathers form my co-rider that is much shorter so I felt like a jockey. As Tea wanted to trot I let her. She has been a little hard to get to sped up with a rider so if she wanted to. Nearly home I asked her a little more forward when it got slightly downhill. She speed up and nearly took a few strides in gait. Good girl! Did I tell that this was late in the evening so it was all dark – only my headlamp to guide us and the wind that was blowing.
http:///ullekalv.se/wp-content/uploads/2015/09/ullekalv_header_logo.png
0
0
Ingrid Amadori
http:///ullekalv.se/wp-content/uploads/2015/09/ullekalv_header_logo.png
Ingrid Amadori
2015-12-21 07:12:00
2015-12-21 07:12:00
Tea jobbar vidare