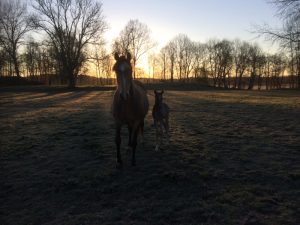 Äntligen har jag bestämt ett namn till fölis! Ullekalvs Dame Odette.
Det har tagit sin tid; dels för att jag varit trött efter fölvaket och det varit mycket på hemmaplan, dels för att jag hade svårt att hitta något som passade in på vad jag ville få fram.
Det här blir troligen mitt sista föl på Ekenäs (mer om det framöver) så jag ville gärna få till något som hade anknytning till Ekenäs. Riddarspelen drar i gång nu till helgen, så det låg också nära till hands men inte det enda möjliga spåret. Så, jag och Maria har tänkt, klurat, googlat och letat på alla möjliga sätt. Utan å, ä och ö och någorlunda lättstavat och lätt att uttala.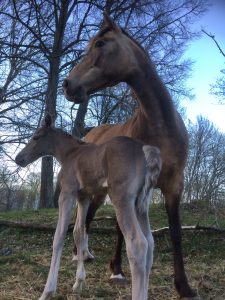 Till slut hittade jag att kvinnliga riddare fick prefixet "Dame" istället för männens "Sir".  Då behövdes bara själva "namnet". Odette kommer från balleten Svansjöns huvudrollsinnehavare, prinsessan Odette. Detta för att det denna tid på året är stora mängder sångsvanar i den lilla del av sjön Teden nära slottet. De låter så pass mest hela tiden att man inte precis kan missa dem.
Och till vardags får det bli Eddie.
Finally I have a name for the foal! Ullekalvs Dame Odette.
It took some time as I got tired from foal watching, a lot to do at home and didn't really find something that had the meaning/associations that I wanted.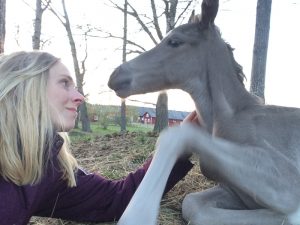 This is probably my last foal born at Ekenäs (more about that later) so I wanted a name with connections to the place. As the jousting games is this coming weekend that was close. So Maria and I have been thinking and googling to try to find something. Without å, ä and Ö and that isn't too hard to pronounce or spell.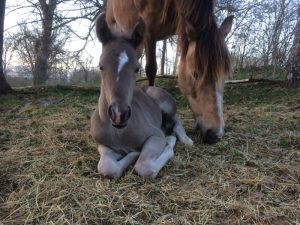 Finally I learned that a female knight got the title "Dame" instead of the men's "Sir". Then I only needed " a name". Princess Odette is the main character in the ballet Swan Lake. As there is very many swans in the small part of the lake Teden that still is close to the castle you can't miss their sounds. The "sing" frequently all day long.
And for everyday use it is going to be Eddie.
http:///ullekalv.se/wp-content/uploads/2015/09/ullekalv_header_logo.png
0
0
Ingrid Amadori
http:///ullekalv.se/wp-content/uploads/2015/09/ullekalv_header_logo.png
Ingrid Amadori
2017-05-13 07:06:53
2017-05-13 07:06:53
Fölis har fått ett namn