Eddie är det mest sociala fölet på Ullekalv hittills. Hon har inte hanterats något extra, men har alltid valt att komma fram till människor, redan som riktigt liten. Mamma Percy har inget emot det , däremot gillade hon inte övriga hästars närvaro i början.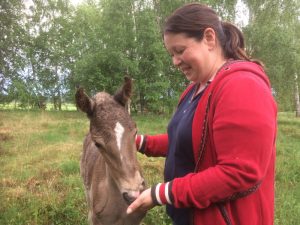 Bara Calinka var någorlunda ok.
Att Eddie varit så lätt och trevlig har även visat sig när vi skulle lasta henne och Percy – efter ett tag stod Eddie lös utan att vi höll henne i transporten medan vi övertalade Percy att kliva på. När Eddie fick en släng av földiarré (brukar komma kring stoets första brunst) så kunde jag utan problem tvätta henne själv utan att hålla fast henne särskilt väl.
Det enda är att hon nästan varit för social och tyckt att vi ska leka – stegra och nafsa. DET är inte ok. Men, hon verkar bli en väldigt trevlig liten flicka och förhoppningsvis får hon snart en fölkompis och inte bara två tråkiga tanter i hagen som bara vill beta.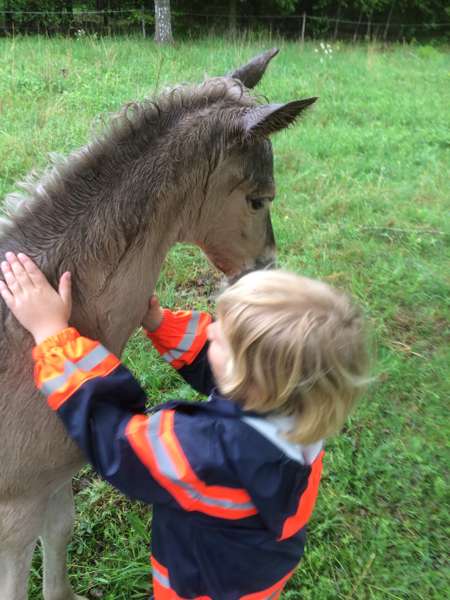 Eddie is the most social foal at Ullekalv so far. She hasn't had any special handling, but she has chose to come to humans right from the start.Mother Percy had nothing against it, but didn't like the other horses attention. Only Calinka was ok.
Eddies good temper also shown when we trailered her and her mother. After some time Eddie stayed in the trailer without any restrictions while we worked on persuading Percy to enter. When Eddie got the foal diahorrea (that usually arrives at the mares first heat) I had no problem to wash her by myself.
She has nearly been to social and thought that humans could play as horses – rare and chew on humans. THAT is not ok. But she seems to grow up to be a very nice filly and hopefully she soon get a foal friend that she can play with, not only to ladys taht only want to eat grass.
http:///ullekalv.se/wp-content/uploads/2015/09/ullekalv_header_logo.png
0
0
Ingrid Amadori
http:///ullekalv.se/wp-content/uploads/2015/09/ullekalv_header_logo.png
Ingrid Amadori
2017-06-08 21:33:56
2017-06-08 21:33:56
Eddie