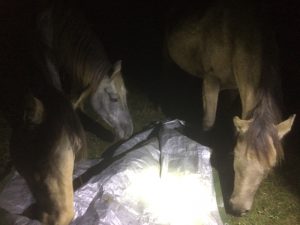 Maggan kom förbi så vi passade på att miljöträna unghästarna. Whizzy fick komma ut ur hagen och fick en boll kastad omkring sig, kolla på ett däck och bara stå still vid borstning. Under tiden sprang David omkring med pannlampa och en handgräsklippare i mörkret.
Väl i hagen drog jag ut en presenning som Iris snabbt krafsade ihop med frambenen så den låg under hennes mage. Honey var lite försiktigare men var och kollade på den efter en stund.
Maggan came by so we did some environmental training with the young ones. Whizzy got out of the pasture and got a big ball thrown around her, looked at a tire and just had t stand still while being groomed. During it all David ran around with a head lamp and a head driven grass clipper.
Back in the pasture I brought out a tarp that Iris quickly got under her stomach. Honey was a little insecure about it all, but curiosity took over so she had to check it out.
http:///ullekalv.se/wp-content/uploads/2015/09/ullekalv_header_logo.png
0
0
Ingrid Amadori
http:///ullekalv.se/wp-content/uploads/2015/09/ullekalv_header_logo.png
Ingrid Amadori
2017-10-28 13:55:01
2017-10-28 14:01:55
Miljöträning i mörker