Just nu har jag tre unghästar som jag börjat rida in. Jag får inte alltid tid att jobba så länge och jag är ofta själv. (Men bebis har en stor del i det). Av någon anledning fick det här mig att vara ännu noggrannare med förberedelserna och att försöka göra så mycket som möjligt utan att sitta på hästarna.
Det har varit löshoppning, tömkörning, promenader, lös med sadel bland annat för att lära styrning, vara själv eller med andra i skog och mark, vänja sig vid något på ryggen och något som bankar i sidorna, att gå fram själv först….
och träning vid uppsittningspallen. Nu har jag suttit upp på alla tre, själv, barbacka och enbart i grimma med tyglar.
Jag kan nog inte säga att jag rider dem än – jag är snarast en passagerare, men det är så kul att se att de två osäkraste nu har erbjudit mig att sitta upp. Inte direkt, de är båda lite tveksamma i början, men när de fått tänka en stund, vänja sig vid tanken. Då ställer de sig plötsligt nära pallen så att jag kan sitta upp lätt. Innan dess har de gått runt och sett till att hela tiden ställa sig så att jag precis inte kommer upp. Väl på ryggen har de uppfört sig bra – trots att jag bara har haft en grimma med ett par tyglar.
Misstänker att det är därför jag börjar gilla den här varianten på inridning – hästen väljer själv när den är redo.
Starting bareback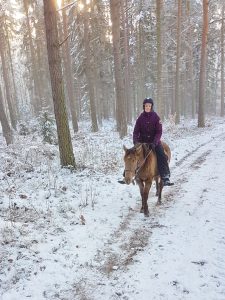 Right now, I have three youngsters that I just have started. Often I can't work as long or as often as I would like to. (My baby boy plays a big part in that). By some reason that made me even more careful with the preparations and to be able to do as much as possible without sitting on the horses backs.
I have been jumping them without a rider, ground driving, bringing them for walks, let them walk around loose with a saddle in the arena and more things. Every thing has had its own purpose, to learn how how to start and stop, be alone, see the forest, to have something on the back, touch in the leg aid area etc…
I haven't fully started to ride them yet – I am more like a passenger, but the two most insecure has both offered me to get on their backs. It has been very clear as they used to walk around the mounting block and just get out of reach. Yet they don't get straight up, but take  a couple of laps and then park them self in a nice place for me to mount. But, when I get there I only have a halter and reins on them and they behaves very well.
That's why I guess I start to like this way to start them – the horses has an option to chose when they are ready.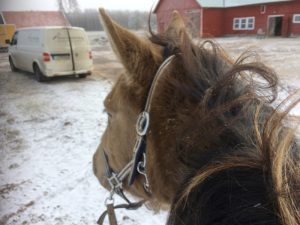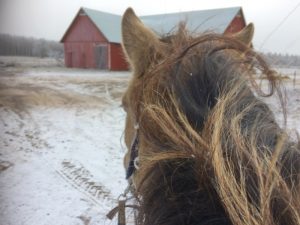 http:///ullekalv.se/wp-content/uploads/2015/09/ullekalv_header_logo.png
0
0
Ingrid Amadori
http:///ullekalv.se/wp-content/uploads/2015/09/ullekalv_header_logo.png
Ingrid Amadori
2018-03-04 20:23:53
2018-03-04 20:23:53
Barbacka inridning