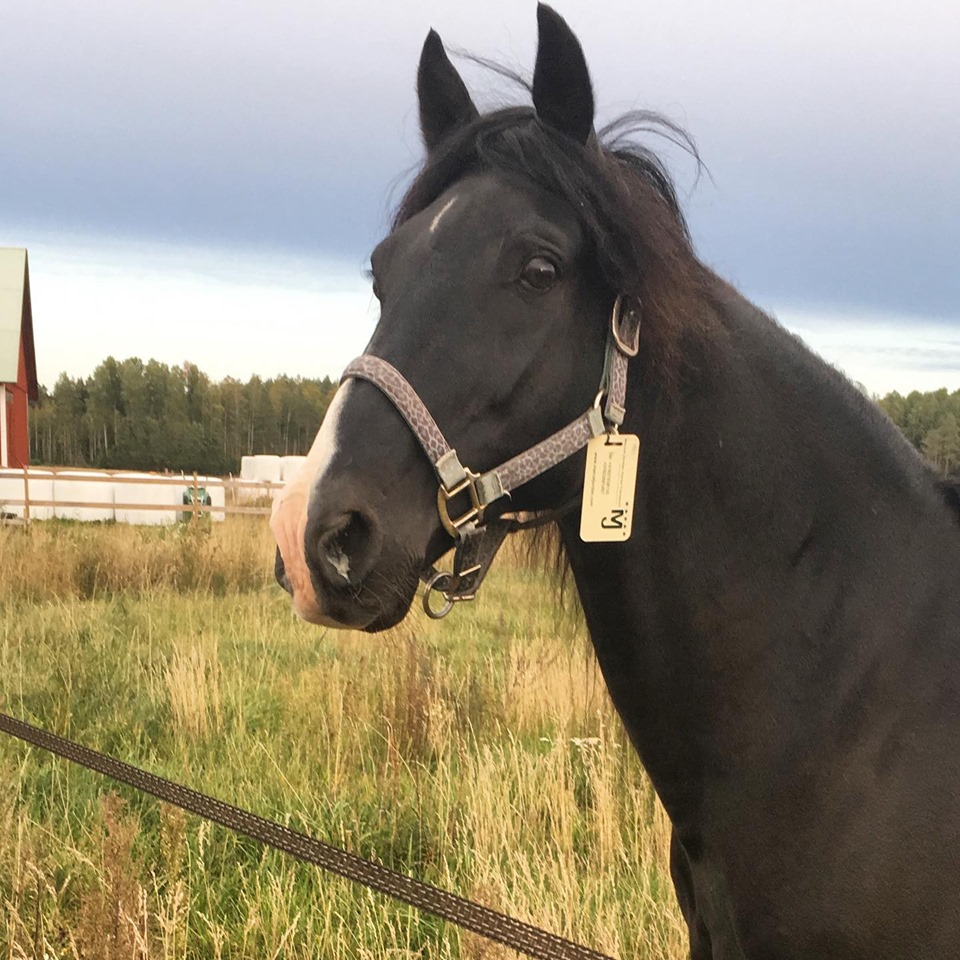 Ni som följt mig ett tag har nog märkt mina problem med att få Iris betäck i år. Jag har både försökt åka utomlands och testa semin. Kontentan är att jag lärt mig massor, men dräktig, det är hon inte. Redan innan jag bestämde mig för att betäcka Iris visste jag att det inte skulle bli vare sig billigt eller enkelt, men att det skulle bli riktigt så krångligt som det blev denna säsongen hade jag inte räknat med. Jag är så glad att jag har Pepper, annars hade min avel inte varit möjlig. För att fortsätta aveln på avkommor födda i Sverigehar jag insett att det behövs fler hingstar i Sverige. Därför har jag börjat tänka på vad jag skulle vilja ha för att komplettera mina ston, särskilt Peppers avkommor och börjat hålla ögonen öppna. Fölunge, unghingst eller äldre, allt har varit intressant att titta lite närmare på, främst i Europa. Men, hästarna går bort på än det ena än det andra. Jag vill ha en mindre hingst eftersom Pepper ger relativt stora avkommor. Däremot vill jag ha mycket av det Pepper är, men en helt annan stam. Jag älskar Peppers lätthet till form och samling, hans intelligens och hans korrekta och lite grövre exteriör. Så jag gjorde en lista över vad jag önskar i en framtida hingst.
Så jag gjorde en lista med de egenskaper jag önskade hos en kompletterande hingst. Bättre att vara förberedd och veta vad du söker NÄR den hästen dyker upp. Det ger också tid att tänka igenom VAD som verkligen är viktigt och behövs.
Och så fick jag en förfrågan. Det är inte rätt tid egentligen, men till slut kunde jag inte låta tillfället gå mig ur händerna. Han må vara lite äldre än vad jag hade planerat, men det är alltid några saker som inte är "perfekta". Vem det är – Lightfoot In The Wind!!!! En häst vars avkommor jag hållit ögonen på i flera år i förhoppning att det någon dag skulle passa att köpa en avkomma efter honom. En häst jag inte trodde Petra någonsin kunde tänka sig att släppa då jag vet hur högt hon älskar honom.
Han anlände precis. Jag hoppas han kommer att trivas bra här. Jag tror han har väldigt mycket att bidra med i aveln. Det är också anledningen till att Petra lät honom komma hit, för att föra sina gener vidare. Därför kommer jag betäcka de flesta eller alla mina ston med honom nästa år. Och har du ett rockysto och funderar på föl tycker jag du ska ta chansen. Pepper hoppas jag lever många år till och det hoppas självklart även med Footy. Men, Footy är 21 år, så oddsen är lägre för att han kommer att verka många år i aveln. Hans sida på min blogg kommer uppdateras framöver. Gå in där och läs mer om varför detta är en så fantastisk hingst!
Those who have followed me for some time probably noticed my problems to get Iris in foal this year. I have tried both to get abroad and AI. I have learned a lot, but she isn't pregnant. Even before I started to search for a stallion for Iris did I know that it was going to be a lot of work. Neither cheap nor easy. Still, I didn't get really how difficult it would be. It makes me even more happy to have Pepper – without him hadn't my breeding been possible. To be able to continue breeding in Sweden, using offspring born here, did I realize a long time ago that we need more stallions. So, I started to think about what kind of stallion would I like? What would benefit mares with pepper as a sire? I have been keeping my eyes open for both foals, young ones and older ones in Europe. But, it seems as I find something wrong with all of them. I want a smaller stallion as Pepper offspring tends to be on the bigger side. I want a lot of what Pepper is, but with a different pedigree. I just love Peppers easiness for working in a correct frame and collect, his intelligence, his correct and sturdy conformation.
So I made a list for what I would like in an additional stallion. Better to be prepared and know what you need WHEN that horse shows up and to get time to think about WHAT is important and you really want.
And then I got this request. Not at the right time, but as it checked out basically all my demands I just couldn't refuse it in the end. He might be a little older than my plan was, but there is always somethings that isn't "perfect". Who it is – Lightfoot In The Wind!!!! A horse that I have kept my eye on for years, wanting to snatch an offspring of his one day when the timing was right. A horse I never, ever thought Petra Van Den Berg would let go as I know how much she loves him.
He just arrived here. I hope he settles well. I think he still has much to contribute to for the bred. That's also why Petra let him go. To spread his genes. Therefore most, or all my mares is going to be bred to him next year. And if you have a Rocky or Kentucky mare I highly suggest that you think about using him. I hope Pepper lives for many more years and have a lot of offspring to. I hope the same for Footy, but he is 21 so the odds are lower. He is getting a page at my webpage. Check it out – it is going to be updated with new pictures and info as soon as I get the chance to take photos. And learn about what makes him a great stallion!
http:///ullekalv.se/wp-content/uploads/2015/09/ullekalv_header_logo.png
0
0
Ingrid Amadori
http:///ullekalv.se/wp-content/uploads/2015/09/ullekalv_header_logo.png
Ingrid Amadori
2019-09-19 20:17:49
2019-09-20 05:40:58
Lightfoot In The Wind