Tyskland, Toril och första mötet med rasen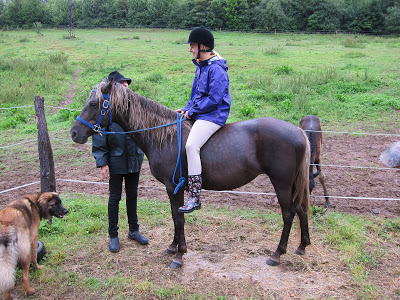 Så stod de där; en flock på 5 blöta ston och fyra föl i den branta hagen. Alla vuxna hästar utom en silverfärgade. Disigt och lätt regn i luften. De var mindre än jag trott. "Det är Friendly, Sunset och Lyn; hon är si, hon är så, den hoppades jag skulle gett mig ett hingstföl, de ljusa silverfärgade hästarna är homozygoter…" Informationen flödade över mig och jag varken hann skriva eller lägga vad som sades på minnet. Kameran visade sig vara nästan tom på batteri (en miss i kommunikation med maken). Jag blev positivt överraskad av att de inte satt på mig som ett klistermärke, även om de inte var ovilliga att låta sig klappas. När jag läst om deras "people oriented" och "friendliness" har jag till viss del misstänkt att de skulle vara för närgångna.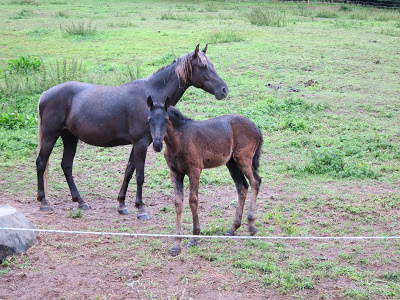 Jag och maken hade rest ett dygn med bil för att komma fram till Toril's Rocky Mountain Horses i östra Tyskland. Mitt första möte med rasen. Allra först såg vi faktiskt två ston hemma hos Toril; ett som snart ska föl och ett som behövde äta upp sig efter att det tagit för mycket på henne att ha föl. Jag fick rida Friendly; Torils favorit sto. Tyvärr var det bara på en väg precis utanför hagen, så där 100 meter där jag kunde gå fram och tillbaka. Barbacka och med ett bitless bridle som mest liknade en grimma med pannband satt jag upp. Lugn, sansad, nästan lite slö var min första känsla – förutom att hon inte var ett dugg skolad; hon förstod inte alls några sidförande hjälper. Jag försökte se om det skulle gå att böja och ställa lite, men det var inte helt lätt både pga ridvägen och huvudlaget. Men, mot slutet började jag få lite ställning och böjning. När jag bad om mer fart svarade hon direkt och började gå i gångart. Jag red för fort (det skulle gå långsamt), men efter några försök fick jag till en bättre gångart. Den "sega" hästen var inte ett dugg slö!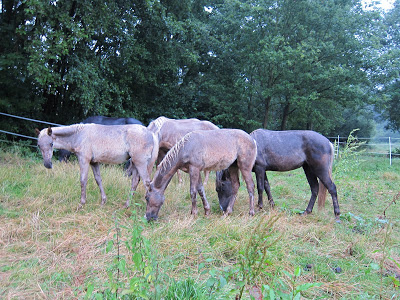 Eftersom regnet upphörde bestämdes att jag skulle rida ut med de tjejer och killen som just nu var ett par veckor hos Toril. Vi åkte hem och hämtade de som inte var med, samt sadlar (bomlösa) och huvudlag (grimma med grimskaft till 2 hästar, liknande det jag haft till två och ett bitless bridle i läder med remmar under hakan till den sista hästen som var lite piggare). Väl tillbaka hjälptes vi åt att göra i ordning hästarna i hagen och jag upptäckte att jag hanterade dem på samma sätt som min egen häst – dvs släppte lite på säkerhetstänkte. Det var liksom så man gjorde. Ovanför hagen fanns flera gräsfält och när vi lämnat alla föl och ett sto kvar i hagen satt vi upp och red runt på fälten. Min nya häst, Lyn, skrittade med väldig fart och jag fick henne aldrig i bra gångart – jag tror jag lät henne gå för fort. Det blev ett antal galopper över fälten, vi red om varandra, red galopperade i bredd och bara gick omkring. Inte en häst bråkade eller betedde sig konstigt. Jag tror ingen var proffsryttare, en av dem hade inte ridit på flera ¨år och var egentligen osäker som ryttare sa hon. Lyn hade, efter en olycka blivit blind på en ögat och jag märkte att hon tog sin säkerhet i de andra hästarna – så fort hon inte såg dem ville hon vända sig så hon hittade dem. Inte så konstigt eftersom hon inte kände mig, enligt Toril så gjorde hon inte så med henne. Jag var snrast imponerad av att hon uppförde sig så bra trots att hon inte såg ordentligt. Därför blev det inte något särskilt dressyr jobb. Hon var förresten den "heta" hästen som behövde det något skarpare huvudlaget, men jag höll aldrig hårt i tyglarna.
Egentligen gjorde vi inget särskilt, inget avancerat, inget speciellt. Så jag var inte så imponerad. Helt vanliga hästar som gör det de ska, helt enkelt; de gick igenom den stensatta sänkan mellan ett par fält där det fanns lite vatten, de galopperade snällt i grupp, ingen som tenderade att sticka eller bocka, de var lätta att sadla på. Vad är det för speciellt med det? Ju mer jag tänker på det dessutom mer speciellt blir det; 5 hästar, som fram till för några dagar sedan inte jobbat sedan innan de fick föl som alla har nya ryttare som ridit dem bara någon gång var och fölen var kvar i hagen. Hästar där flera av dem, fick veta senare, ridits några gånger för att certifieras för avel och varit ute på några "trailrides" och lite till; min känsla blev kanske 50 gånger eller så med ryttare! De var coolare än min ridhäst som ridits i 10 år, hon kan fortfarande hitta på småsaker även om jag anser henne väldigt lättriden. Men väldigt outbildade – de hade inte tränats till något annat än att gå rakt fram på uteritt.
Efter en lång kvällsintervju med Toril för att lära så mycket som möjligt tog jag morgonen därpå en snabbtur för att titta på unghästarna. De gick 2 föl, 2 ettåringar och 2 2 åringar i samma hage tillsammans med en äldre valack. Deras vänlighet påminde mig om varför jag vill föda upp hästar; de är så underbara! Jag gillade intiutivt ett tvåårigt chokladfärgat sto. Det visade sig sedan att hon var den enda som inte var Torils uppfödning. Men, jag hann inte ta någon närmare titt på unghästarna, vi gav oss iväg lite för nio på morgonen och kom inte hem förrän 01.00. Morgonen därpå var det dags för jobb.
Exteriört har vi alla olika saker som vi gillar mer eller mindre och det är inte alltid juste att kommentera avelsston. Generellt tycker jag att många av hästarna hade väldigt tydliga/synliga lumosakralleder, vilket jag inte riktigt gillar. Ett par pekade Toril ut att de var lite långa i ryggen, medan en rörde sig så bra att hon alltid var rejält musklad i ryggen. En annan hade en riktig "äppelrumpa" trots att hon saknade ryggmuskler och inte jobbat på ett tag. Minst en av dem hade rejäla ben, inte så tunna som jag tyckte att de varit på många bilder. Huvudena gillar jag skarpt över lag. Tror att inte alla hade perfekta benställningar ifrån alla vinklar, men jag hann inte kolla så noga och kameran gav ju upp… Det svåra är ju att se även de bra sidorna – att hitta fel är ofta det enklaste. Däremot såg jag inga med de långa bakben jag sett på bilder utan de såg bättre vinklade ut.
Så, jag tror jag sk

a satsa på det här… Ju mer jag tänker på det desto mer tror jag på det. Det återstår bara att se om folk är beredda att betala…Men, nu börjar jobbet. Listan på vad som ska göras blir lång! Hela resan för att genomför det här ett äventyr!
En särskilt eloge till Torils som la så mycket tid på att visa sina fina hästar och svara på alla mina frågor!
There they was; a herd of 5 wet mares and four foals in the pasture. All grown ups chocolate colored. Foggy and a mild rain in the air. My first thought was that they was smaller than I had expected."This is Friendly, Sunset and Lyn, she is like this, she is like that, I hoped this one should give me a colt, the light chocolates are homozygous…"Every word full of information and I didn't have time to write it down or even remember a lot of things. The camera battery turned out to be nearly discharged (a communication error between me and my husband before we left). I was positively surprised that the horses weren't to o much in my lap. When I have read about their friendliness and people orientated disposition I thought that they might be to close up.
My husband and I had been traveling 24 hours by car to arrive to Toril's Rocky Mountain in eastern Germany. My first meeting with the breed. Or, we meet two mares at Toril's houss, a mare that is soon going to give birth and own that needed to eat a little bit extra as her baby had feed to well from her mother. I got to ride Toril's favorite mare – Friendly. Sadly it was only a road outside the pasture, about 100 meters long and a car wide where I could walk back and fourth. Bareback and with a bitless bridle that to me mostly resembled a halter with a brow-band I got on Friendly's back. Easy, laidback and nearly a little bit lazy was my first impression. And she didn't know a lot of dressage, at least she didn't understand any of my side way aids. It might as well have been the halter as I was not totally comfortable with it (as I felt I lacked in communication). But after just a short while she started to answer a little bit to my aids. When I asked for some gait she responded directly even if I rode to fast and had trouble getting a correct gait (totally my error and lack of knowledge). The "lazy" horse was not lazy at all!
As the rain (finally) stopped for a while it was decided that I should hack out with the three girls and the "boy" who was staying at Toril's place helping during a couple of weeks. We headed back to Toril's place and got the person's and stuff that we missed.Back in the pasture while we prepared all the horses I noticed that I treated those horses as my old mare back home. Relaxing and using much less of a security thinking much more than usual with horses I don't know. When we have left all foals in the pasture we rode at the field above the pasture. The new horse that I rode – Lyn – walked with a lot of energy but I never got a nice gait out of her – I think I let her go to fast. It was definitely my fault – not her. But she had a nice canter – all five of us cantered along the field, side by side, passing each other etc. All horses bridle up with only the halter like bitless bridle. I don't think any was a professional rider, at least one hadn't been on horse back for a while and was rather insecure as a rider. Lyn had had a accident years earlier and had not full vision in one eye. I felt that she got her security from the rest of the horses, being insecure as soon as she could not see them. Not a strange behavior as she did not know me – she didn't behave like that with Toril according to her. I was mostly impressed as she behaved as good even if she didn't have full vision, most of the time I didn't notice.
We didn't really do anything special riding along at the fields. I wasn't very impressed. Normally horses behaving as expected. They just walked thru the stone paved passage with a little water between two fields, the cantered nicely along in a group without any tendens of pulling the reins or bucking. What is special with that? But the more I think about it, the more special it is; 5 horse that until a couple of days earlier hadn't worked before they had their foals. Everyone carrying a new rider and their foals left in the pasture. And many of the horses had not had extensive training, they was certified and then mostly breed. They might have been on some trailride, but me feeling became that it might have been as little as 50 times with a rider. Still they was cooler than my mare that had 10 year of riding and that I consider really easy and secure. Of course they wasn't very educated, they seemed to know mostly going straight forward.
After a long evening interview with Toril to learn as much as possible I visited 2 foals, 2 2 year ols and an older gelding in another pasture the following morning. Therir friendliness reminded me why I want to raise horse, they was just wonderful! I liked a chocolate filly, the one that turned out to not be Torils breeding. But I didn't have a lot of time, we headed of 9 in the morning and didn't get back until 01.00 in the night. The following morning was a normal work day…
Conformation wise; we all have different opinions, and it is not nice picking on broodmares, but this is some of my thoughts: I found some horses to be a little rougher than I like at the ls joint, Toril found a couple to be slightly longer in the back than she preferred while one was always well muscled in the back. One had a really "apple but" even if she hadn't been working for a while. At least one had really nice legs, not as thin I had ween in pictures. And the heads – beautiful! I am not sure all legs was perfectly straight from all aspects, but I didn't checks that enough and the camera stopped working… It is hard to see the good side – finding what is not perfect is much easier. Still, I was happy that I did not see any with extremely long hind legs as I have seen in pictures.
I think I am going to go for this. The more I think about it, the more I believe in it. The question is only if people while pay. But, let's the work begin. The to do list is long. This is going to be an adventure!
And we definitely had a good time at Toril's. She had wonderful horses and really tried to answer as many of my questions as possible and showing me as much as possible about those horses!
http:///ullekalv.se/wp-content/uploads/2015/09/ullekalv_header_logo.png
0
0
Ingrid Amadori
http:///ullekalv.se/wp-content/uploads/2015/09/ullekalv_header_logo.png
Ingrid Amadori
2011-08-02 21:29:00
2011-08-02 21:29:00
Tyskland, Toril och första mötet med rasen