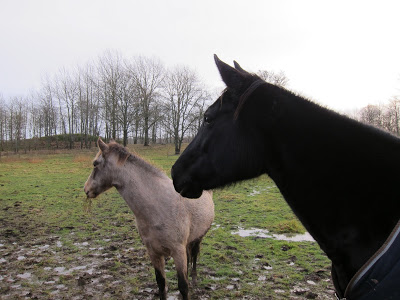 Igår var det så äntligen dags, för första gången satt jag upp på Calinka sedan flytten. Barbacka dressyr i paddocken som gränsar till stonas hage var planen. Calinka jobbade på bra, även om Percy var utanför och gnäggade. Lite stel efter vilan, men i förvånansvärt härlig form, traven var bara underbar, vilken höjd rygg! <3 Dessutom avslutade vi med att gå bakom ladugårdarna så vi försvann en stund för Percy.
Så, summa summarium så tränade jag under en timmes tid två hästar bra; en gick ett lätt dressyrpass, den andra fick mentalträning när kompisen försvann och även lite fysisk träning då hon sprang några varv. Dessutom hann jag med att ta in och borsta Percy under timmen. Redan står hon mycket mer avslappnat, hon lär sig fort!
Om alla träningstillfällen kunde vara så här effektiva!
Yesterday was is finally time to get back on Calinka's back since she moved. Bareback dressage in the "arean" that is just outside the mares pasture. Calinka worked well, even if Percy was outside whining- A little bit stiff because of the rest but a nice frame and the trot was wonderful with a really arced back <3. We finished by walking around the houses that made us invisible for Percy.
Summing up: In one hour I trained two horses, one had an easy dressage work, the other one mental training (at the same time) and a little physical training as she run a little while she was alone. Besides, I got time to get Percy indoors and brush her. She is already much more relaxed, a quick learner!

If every training session could be this effective!
http:///ullekalv.se/wp-content/uploads/2015/09/ullekalv_header_logo.png
0
0
Ingrid Amadori
http:///ullekalv.se/wp-content/uploads/2015/09/ullekalv_header_logo.png
Ingrid Amadori
2011-12-26 20:41:00
2011-12-26 20:41:00
Effektiv träning I