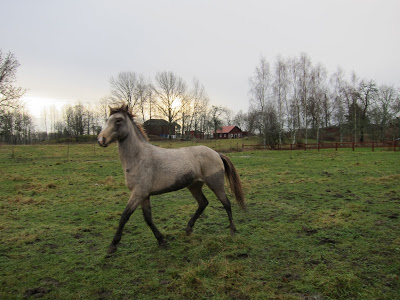 Alternativ rubrik: Galna märrar
Nöjd med gårdagens träningspass kunde jag inte tänka mig att dagens skulle bli ännu effektivare. Hela familjen jobbade på att ordna detaljer i stallet (hur mycket finns det inte att göra ?) under några timmar. När vi nästan var klara hörde jag hur det dundrade i marken och efter en stund kom de – stona. Fullt ös medvetslös verkade vara deras idé. Väl uppe vid stallet smackade jag lite på de, från säkert 10 meters håll och så bar det av igen. Fram och tillbaka till grinden minst fem gånger i full gallop, tvärnit och så galopp tillbaka. Calinka var dessutom tvungen att lägga minst två rejäla bockspång vid varje start på väg mot stallet igen… Svansarna på ryggen och höga fnysingar ingick så klart också.
Det är bara synd att jag inte hade kameran. Får bli en bild på Percy när hon såg en person på promenad med hund för några dagar sedan istället och en på Calinka från i somras när hon sprang.
Alternative headlight: Crazy mares
Content with yesterdays training session I couldn't imagine that today's would be even more efficient. Tho whole family worked with details at the stable (how much isn't it to do?) during a couple of hours. When we nearly was done I heard the earth rumbling and soon they arrived – the mares. I encouraged Calinka, just clicking my tongue at a long distance, and then they ran back and forth to the gate multiple times. Full speed, stop, turn around and then full speed again…Calinka just had to do two big bucks each time she headed back to the stable. But held their tails high and made high snorts.
I am just sad the camera wasn't with me. Therefore it has to be a picture of Percy when she saw some one walking the dog and a picture of Calinka when run this summer.
http:///ullekalv.se/wp-content/uploads/2015/09/ullekalv_header_logo.png
0
0
Ingrid Amadori
http:///ullekalv.se/wp-content/uploads/2015/09/ullekalv_header_logo.png
Ingrid Amadori
2011-12-26 21:05:00
2011-12-26 21:05:00
Effektiv träning II