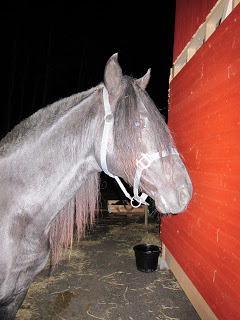 Eftersom det varit en hel del byten av vilken dag hästarna skulle komma gick jag vid ett tidigare tillfälle med på att åka till Wales med jobbet den 15 till 16 december. Som läget var då skulle hästarna ha varit hemma i en vecka när jag åkte iväg. Nu höll det istället på att bli så att de ankom när jag inte var hemma.
I alla fall, 6 på morgonen den 15:e gick flyget så jag passerade förbi hästarna lite efter halv fem på morgonen. Stona såg jag direkt när jag kom ångande med min pannlampa och, gummistövlar och överdragskläder, men Pepper såg inte ut att vara i den lilla hagen där jag lämnat honom. Han stod i staketet, framknäna mot eltråden och elvajer nästan ett helt varv runt bakbenet. Blickstill. Jag har läst att Rockisar gör så, fastnar de så väntar de på hjälp, men inte trodde jag att jag skulle få erfara det så snabbt (helst inte alls). Så, jag lyfte loss hans ben och såg att inga synliga skador fanns – men hur var det med stressen? Han hade ju precis kommit till ett nytt ställe och dessutom varit lite dålig under resan. Hur han fått ner översta tråden (som ligger på närmare 1,5 meter) och runt bakbenet och har jag ingen aning om. Troligen såg han den inte, men kvällen innan hade han uppmärksammat den.
Medan jag lagade staketet travade Pepper fint en bit bort och inga synliga fysiska skador fanns. . Själv är jag så imponerad av hans temperament. Han bara stod blickstill tills jag hade fått loss honom och följde lätt med när jag ledde honom en liten bit ifrån staketet i bara grimman. Inga panik hopp i något läge, men han höll lite avstånd och sprang lite när han väl var loss.
Maken fick ett samtal där jag var lätt panikartad och jag missade nästan flyget. Resten av dagen fick jag sms om hästarnas välbefinnande från både Mariah, Maggan och maken. De ställde verkligen upp och passade på dem och fick även göra lite av en akututryckning eftersom jag var rädd att Pepper skulle bli chockad av det han fått gå igenom så nära inpå resan. Allt verkar dock vara bra nu, jag längtar efter att träffa dem allesammans idag.
As it has been some changes according to when the horses should arrive I had agreed on going to Wales with work 15-16 of December. When I agreed the horses should have been home about a week. Now I found that they nearly arrived the day I went to Wales.
As the airplane left at 6 AM i passed by the stable before 5. I saw the mares directly, but Pepper didn't seem to be in the small pasture where I left him. I found him instead in the fence, with an electric wire nearly one lap around his hind leg and his knees touching the remaining wires (but not caught in them). Pepper stood totally still: I have read that Rockies do that, but I didn't suspect that I should experience that so fast (hopefully never). I untagled him while he continued to just stand, couldn't find any physical damages and then let him take of when he showed me some running so I could conclude he wasn't lame. I just donät get how he got the top wire loose and caught around his limb, even if it is hard to see in the dark he notice it when he arrived.
I am most amazed about Peppers disposition – no fast jumps, no snorting, frustration etc. He just let me come up in the dark with a strange lamp on my head and untangle him.
I called my husband a little hysterical and after that he took care about most things. he and Mariah went there a little later to see that Pepper still was doing fine. Maggan also made visits and I got sms reports all day long about how the horses was. Everything seems to be fine now and I can't wait to meet the horses to day.
http:///ullekalv.se/wp-content/uploads/2015/09/ullekalv_header_logo.png
0
0
Ingrid Amadori
http:///ullekalv.se/wp-content/uploads/2015/09/ullekalv_header_logo.png
Ingrid Amadori
2011-12-17 07:08:00
2011-12-17 07:08:00
Utlandsresa