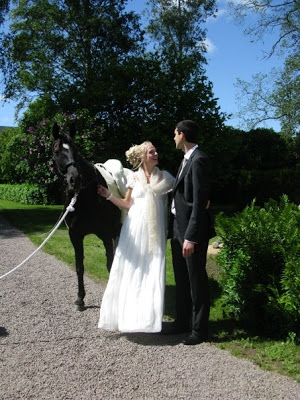 Igår kom hästarnas pass. Stamtavlorna var med tillbaka – däremot inte plastfickorna de tidigare förvarats i liksom de lösa papper med DNA typning och konturdiagram som fanns med i Peppers plastficka. Därmed har jag också äntligen kunnat skicka Percy's papper för registering av ägarbyte till USA. Bättre sent än aldrig… Dessutom har jag knåpat ihop några rader till Skatteverket angående det övervägade de skickade till mig för drygt en vecka sedan.
Idag firar jag och maken 10 år sedan vi träffades. Åren går fort! Så ivkäll firar vi med en trevlig middag som avslutas med chokladtårta.
Yesterday the horses passports arrived. The RMHA pedigrees cam back as well. But not the page protectors that joined them, or papers about DNA parentage etc that was in Peppers page protector. As I got the passport I could finally send Percy's RMHA papers for ownership transfer. Better late than never… I also sent a mail with some lines for the tax administration as a reply to their latest communication.
Today my husband and I celebrate 10 years since we meet. The years fly by! So tonight we treat ourselves with a nice dinner and a chocolate cake.
http:///ullekalv.se/wp-content/uploads/2015/09/ullekalv_header_logo.png
0
0
Ingrid Amadori
http:///ullekalv.se/wp-content/uploads/2015/09/ullekalv_header_logo.png
Ingrid Amadori
2012-02-09 08:10:00
2012-02-09 08:10:00
10 år