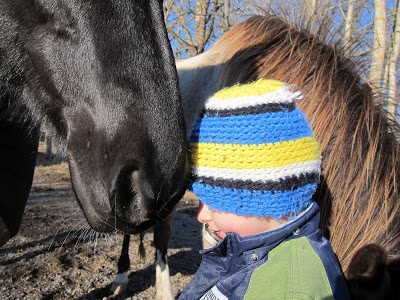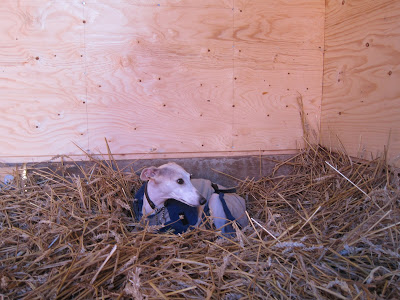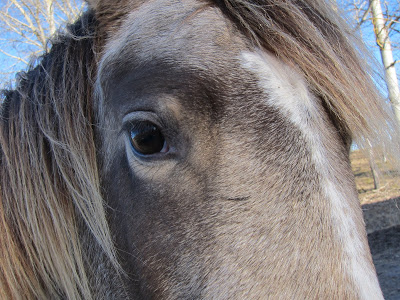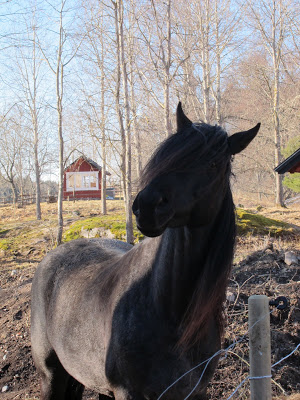 Idag blev vi äntligen klara med dörrposten vi påbörjade igår! Pepper var nyfiken och undrade vad vi höll på med – bilden visar minen han fick när maken klättrade upp för att spika upp en bräda.
Turligt nog blev det tid över att ta ut Calinka på en tur. Vi testade ny väg och kom inte helt rätt. Nästa gång kanske? I alla fall blev det 45 minuter och den sega hästen som hela tiden saktat av i början blev en rejserhäst som fick ta ett extra varv i en hage när vi nästan var hemma.
Jag hann precis ta in Percy, borsta henne och leka lite med tömmarna i stallet innan jag blev hämtad. Percy skötte sig utmärkt och jag kunde till och med visa henne lite sidoförflyttning med dem.
Och Mika – hon upprepade gårdagen men låg i stonas del av lösdriften istället.
Today we finally finished what we started yesterday! Pepper was curious and wonder what we did – the pic shows his expression when my husband climbed to attach one part of the door frame.

Luckily I got time to ride Calinka and we tried a new rode. We didn't really get it right – next time maybe? At least she got 45 minutes out doors and the lazy horses that kept getting back to walk that I started with turned into a race horse that needed an extra lap in a nearby pasture before we got home.

I just got time to get Percy indoors, brush her of and play a little with her and the reins in the stable before my husband came and got me. She behaved perfectly and I could even show her a little bit about "stepping to the side" as an aid from the reins.

And Mika – she repeated yesterdays habit but choose the girls barn instead.
http:///ullekalv.se/wp-content/uploads/2015/09/ullekalv_header_logo.png
0
0
Ingrid Amadori
http:///ullekalv.se/wp-content/uploads/2015/09/ullekalv_header_logo.png
Ingrid Amadori
2012-02-26 21:17:00
2012-02-26 21:17:00
Spik, sadel och tömmar