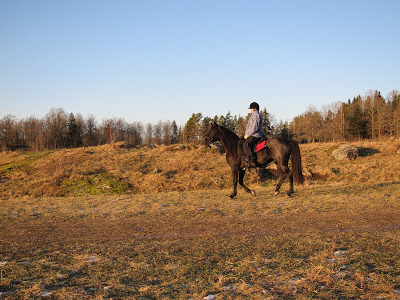 För ovanlighetens skull kom inte stona när jag och Mariah kom till stallet. De gick och betade en bit bort. Pepper däremot stod i närheten och såg väldigt positiv ut. Efter att ha lekt en stund i hagen och mys lite fick han komma in och bli iordning gjord.
När det var dags för uppsittning snurrade han mer än någonsin omkring uppsittningspallen och verkade stressad. Efter en stund lugnade vi alla ner oss och det gick bra. Han är så känslig den hästen – vilket ofta är en fördel. Ett är säkert – han kommer att vara en mycket bra lärare för mig! Väl i sadeln skrittade vi en väg som Pepper inte tidigare sett och Mariah hade ett grimskaft för att vi skulle ha lite extra koll. Hon släpades med i högt skritt tempo även om jag inte märkte att det gick särskilt fort. Inga problem och lite kul tyckte han det var när det blev en kort stunds terräng gång. På hemväg slappnade han av mycket mer (även om han inte känts spänd innan) och Mariah kunde gå lugnare. Tror han tyckte det var riktigt skönt att ha fått vara ute, även om det bara vart omkring en halvtimme. Och inte visade han några som helst tendenser till att bete sig illa (förutom nafsade som vi konstant jobbar med). Eftersom jag glömde kameran fick det bli en gammal bild.
The mares didn't come to great me and Mariah as usual when we arrived at the stable. The was eating in an other part of the pasture. On the other hand Pepper was close by and had a positive expression. After that I had played and cuddle a bit in the pasture I brought him indoors and prepared him.

When I was trying to get on his back he was more nervous than ever, circling the mounting block. After a while we all calmed down and I could get on board. He is such a sensitive horse – and I usually find that positive. One thing is for sure – that is going to make him a very good teacher for me. We set of for a road that Pepper hadn't seen before and Mariah joined us – holding him in a lead rope for extra security. She was nearly dragged along in a fast walk – I didn't noticed that he walked fast but she did. There was no problems and he liked when he got a little off road. While turning back home he relaxed much more (even if he hadn't feelt tense before) and Mariah could finally walk in a more comfortable speed. I think he really liked being worked, even if it was just about 30 minutes. And he didn't show any tendencies of bad behavior (except his nipping that we are working with constantly). As I forgot my camera it's an old picture.
http:///ullekalv.se/wp-content/uploads/2015/09/ullekalv_header_logo.png
0
0
Ingrid Amadori
http:///ullekalv.se/wp-content/uploads/2015/09/ullekalv_header_logo.png
Ingrid Amadori
2012-03-04 21:37:00
2012-03-04 21:37:00
Pepper riden