Gammal är (återigen) äldst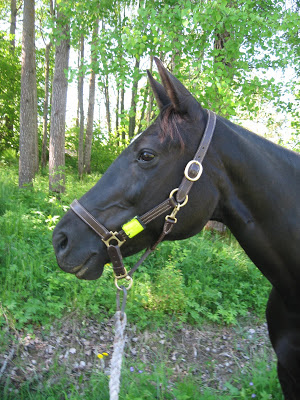 Calinka var den lycklige igår. Stel och grinig började vi dressyra. På skoj försökte jag skänkelvikning samt öppna och sluta utan tygelkontakt – svårt, men med ett finger längst ut i tygeländen gick det mesta. Kanske kan vi lära oss mer än bara styra i skritt utan munkontakt. Hon kunde tveksamt trav – bara några steg på rakt spår. Oj vad det stechade och tog emot. Som hon gapade och såg ut hade man kunnat tro att jag red med rejäla sporrar, spö, mycket skarpt bett, stora hjälper och korta, spända tyglar. Jag satt barbacka med minimal kontakt i munnen, inga sporar eller spön och små hjälper.
Jag bestämde att testa galoppfattning på denna stela, sega, sura tant. Och se, efter bara ett eller två försök lossade det. Plötsligt fick mina höfter börja svänga rejält i sidled för att kunna sitta i traven, bakbenen började jobba och nacken kröktes. Som vanligt. Hon behöver bara försöka fatta galopp för att komma igång. Men, tydligen hade hon hört mitt uttalande om att Percy har en så härlig galopp för när hon väl galopperade skulle hon inte vara sämre. Hon fick nog bättre form än någonsin i galoppen och den blev rund och gungig. (Kanske inte riktigt lika bra som Percys, men det tänker jag inte andas om till tant). Jobbet för att komma till denna galopp har varit enormt och det var främst i höger varv hon orkade med den. Men – WOW. Efter 11 år utvecklas vi fortfarande!
När hon väl hade kommit igång i kroppen slutade även all strech, svansvift och sura miner. Hon måste bara tala om vilken hästplågare jag är och hur jobbigt det är att börja jobba och vilken gammal tantkropp hon har. För att strax börja jobba bättre än någonsin. Söt tant <3
Väldigt spontant bestämde jag mig för att ta in Percy och tömköra en minipass (det blev nog max 10 minuter). Hon skötte sig bra, men tycker det är jobbigt att svänga och börjar då lätt protestera. Det är väldigt svårt att vara så lätt i handen som hon vill – särskilt med tömmar. I alla fall är det helt okej med tömmarna och att byta sida nuförtiden. Ett steg i taget. Tur att jag rider bettlöst.
Calinka was the lucky one yesterday. We started our arena work with a stiff and grumpy horse. Just for fun I tried shoulder in and quarter in with out any rein contact. That was hard, but with just a finger on the end of the reins it worked out OK. Maybe we can learn something more that just turning left and right without rein contact. Calinka was very suspicious about trotting – just a few steps on a straight track seemed to be OK. All her body was screaming – muscles stretched and refusing to work (or at least that was want it felt like). As she was opening her mouth, yawning and was behaving you could have believed that I was using a really harsh bit, sharp spurs, a whip, huge aids and short, tight reins. It was the opposite; I was bareback with nearly full length reins, no spurs or whips and small aids.
I decided to try to start to canter on this stiff, not moving forward kind of grumpy horse. And, jsut after one or two times of canter aids (and 0-2 strides of canter) it worked. Suddenly my hips started to swing a lot to keep up with the moving back to be able to sit the trot. Her hind limbs started to work and her neck was bent nicely. As usual. She needs to start to try to canter to get going. Apparently she had heard me speaking about Percy having such a wonderful canter cause as she started to canter she didn't want to do less. She got a better farm than ever, picking up the limbs high and started to feel a like a rocking horse. (Maybe not as good as Percy, but I am not going to say a word about that to her). The work to get such a canter in this horse as been enormous and it was mainly in the right lead that she was strong enough to perform it. But WOW. 11 years and we are still improving!

When she finally has got her body to loosen up all tail squishing and open mouth kind of things disappeared. She just needs to tell me that it is a painful job to start with – to shortly afterwards be able to work better than ever. My sweetheart <3
Spontaneously I decides to long rein Percy just for a second (or, well about 10 minutes). She behaved well, but finds it hard to turn and then easily starts to protest. It is really hard to be as easy in the hand as she likes – especially with long reins. At least she finds it OK when the reins changes side. One step at the time. Luckily I ride her bitless.
http:///ullekalv.se/wp-content/uploads/2015/09/ullekalv_header_logo.png
0
0
Ingrid Amadori
http:///ullekalv.se/wp-content/uploads/2015/09/ullekalv_header_logo.png
Ingrid Amadori
2012-04-06 02:00:00
2012-04-06 02:00:00
Gammal är (återigen) äldst