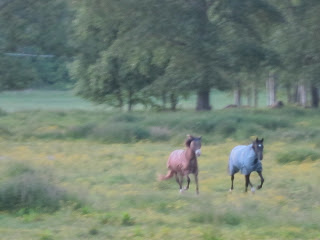 Igår tog jag ut Calinka på en kort vända. Hon har ridits nästan alla dagar denna vecka och verkar ha lite träningsvärk. Vi var bara ute en halvtimme för att jag skulle känna efter hur det kändes på hästryggen och för att Mika skulle få ta en promenad. För första gången på länge fick hon gå lös (och skötte sig) !
Det verkar vara mycket myggor nu när vädret blivit fint så alla hästar fick flugtäcken. Det var en helt underbar kväll! (Om än många myggor) Tyvärr missade jag att ta fram huvan till Calinka så hon gick inte att fånga sedan.. Hon visste att jag kom med huvan och vägrade. Percy fick täcke på sig i hagen, och av någon anledning sprang hon iväg när bara ett bogspänne satt fast. Som tur var stannade hon snart, utan att tha blivit rädd för den stora magplattan eller bensnörerna som fladdrade runt benen. En sådan tjej!
Pepper behövde arbeta och jag gissade på att han börjat tröttna på tömkörningen så jag ville rida… Redan från att jag ledde ut honom, "påklädd" kändes han på bra humör. Mer respektfull än ofta. Kanske för att jag kände mig så säker (det brukar ju hänga ihop :-)) Jag började våra vanliga förberedelser för ridning och allt gick perfekt – han ville inte ens bli longerad. När vi började denna rutin ville han springa en hel del… Det var bara att sitta upp och så började vi jobba. Troligen vårt första "riktiga" dressyrpass. För första gången började jag tänka på min sists, mina händer, sittben, detaljer som jag inte brytt mig om tidigare när jag ridit honom. Pepper var lite stel och hade nästan glömt hur man gjorde för att balansera i trav med ryttare runt fyrkantsspåret. Men, han lyssnade bra och började förstå vad jag menade. Jättehärligt!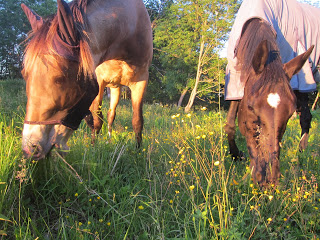 Som avslutning försökte jag med Calinkas flughuva, men fick istället Percy som ett plåster på mig. Hon vile bara mysa och följde med mig. När jag började springa följde hon efter. Trots sitt kontaktsökande blev hon aldrig för påträngande utan bara söt.
Vilka underbara hästar jag har!
Yesterday I took Calinka for a short trip. She has been working neraly all days this weeks and was a bit soar. We just rode for about half an hour so I could feel how it felt on horse back and to give Mika a walk. For the first time in a long time Mika was of the leash (and she behaved)!

It seems to be a lot of mosquitoes now when the weather got sunny and I dressed all horses up with fly rugs. The evening was beautiful! (Even with a lot of mosquitoes). Unfortunately I missed to get Calinka's fly bonnet and couldn't catch her later… She knew I came with it and refused. Percy got dressed in her rug in the pasture and by some reason she left when I only had attached the first front surcingle. Luckily she stopped quickly, not scared by the stomach part or the leg straps moving around. What a girl!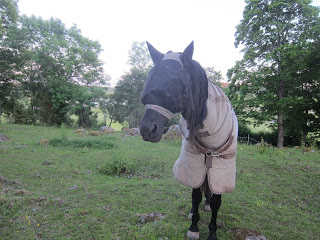 Pepper needed work and I guesses that he was rather bored about long reining so I wanted to ride… Directly when I got him out of the stable "tacked up" he seemed to be in a good mode. And more respectful than usually. Maybe because I felt very secure (it usually goes together :-)). I started with our usually preparations and everything went perfect – he didn't even want to be longed. When we started this procedure he ran a lot..I just had to get in the saddle and start to work. Probably our first "real" dressage work. For the first time I started to think about my seat, my hands, posting on the right leg ; a lot of details that I haven't bother about with him before. pepper was a bit stiff and had forgotten some about how to carry a rider in trot around the arena. Bur he listened well and started to get what I wanted. Wonderful!

Before going home I tried once more with Calinka's hood, but instead got Percy as a plaster. She just wanted to cuddle and followed me. When I started to run, she ran as well. But, she was never to close, just so very sweet!

How wonderful horses I have!
http:///ullekalv.se/wp-content/uploads/2015/09/ullekalv_header_logo.png
0
0
Ingrid Amadori
http:///ullekalv.se/wp-content/uploads/2015/09/ullekalv_header_logo.png
Ingrid Amadori
2012-06-22 09:08:00
2012-06-22 09:08:00
Sommarkväll