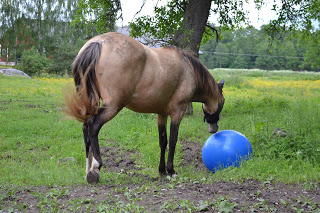 Jag hade planerat en lugn ridtur på Calinka, men när jag kom hade Mimmi precis varit ute med henne eftersom Pepper inte hade velat komma fram ur hagen. Däremot hade han dykt upp när jag kom. Så, jag fick byta häst och motionsform.
För första gången började han erbjuda tölt i tömkörningen när han var mer avslappand. Han var fortfarande högre i form än i övriga gångarter och så fort han ökade tempot det minsta blev det trav. Men, vi är på rätt väg! Överhuvudtaget skötte han sig väldigt bra och jag fick massor med energi av att jobba honom. Så – tack Mimmi för att du tog "fel" häst, det visade sig blev helt rätt! Som bonus han jag dessutom städa lite i och kring stallet, vilket behövdes.
Lou Ellen som sålde Percy har även hunnit titta på videon vi gjorde (TACK!) och vi fick flera bra kommentarer på vad vi kan tänka på. Men, hon kan vara redo för certifiering, vi ska bara göra en lite bättre film. (Och det hade vi redan planerat).
I had planned a calm trail ride with Calinka, but when I arrived Mimmi had already been out with her as pepepr didn't want to come. By the time that I arrived he had showed up and seemd eager to work. So, I changed horse and way of training.
For the first time Pepper started to offer gait while long reining and beeing in a more relaxed way. He still had a higher, less collected fram than in the other gaits and trotted as soon as he started to go faster. But, we are on the right track! All over he behaved very well and I got a lot of erngry from working him. Thank you Mimmi for chosing the "wrong" horse, it turned out to be absolutely right! As bonus I also got time to clean up a bit around the stable.

Lou ellen that sold Percy had had time to watch the video that we made last weekend (THANKS!) and we got a lot of good comment about what to think of.But, she might be ready for certification, we just need to do the movei a little better. (And we had already planned to do that).
http:///ullekalv.se/wp-content/uploads/2015/09/ullekalv_header_logo.png
0
0
Ingrid Amadori
http:///ullekalv.se/wp-content/uploads/2015/09/ullekalv_header_logo.png
Ingrid Amadori
2012-06-19 16:39:00
2012-06-19 16:39:00
Tölten återkommer