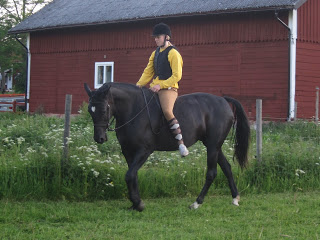 Igår var en underbar kväll, solen sken (till skillnad från allt regn som varit på sistone) och det var så vacker ute. Stilla och grönt. Percy skulle trimmas på ridbanan. För första gången skötte hon sig bra och kunde gå flera varv. Kanske varit bra att hon fått tänka över ridningen ett par veckor nu? Hon töltade fint mest hela tiden, även om hon blev distraherade av två hundar som sprang omkring och deras ägare. Har hon en bra dag är hon nog klar för certifiering – har hon bara dåliga kan det ta månader… Men det känns skönt att vi kommit så här långt. Dessutom blev det andra gången under ryttare med bett – vilket hon inte verkade reagera på.
Calinkas dressyrpass senast blev ju avbrutet så nu fortsatte vi. Det gick bra, även om hon var stel och nog inte riktigt arbetade helt igenom. Dessutom fungerade det bra i alla gångarter för mig, vilket var väldigt skönt.
Yesterday was a wonderful ev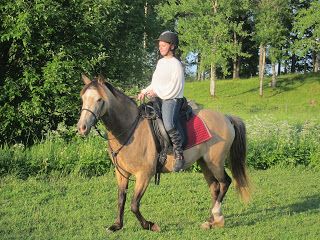 evening, the sun was shining (compared to all rain that has been lately) and it was so beautiful. Peaceful and green. Percy was supposed to be train in the arena.
For the first time she behaved well and could walk some laps. Maybe she has had time to think it all over a couple of weeks now? She gaited nicely most of the time , even if distracted by two dogs that run around playing. If she has a good day she might be ready for certification – if she only has bad ones it can take months… But it is nice that we has come this far. It also became second time with a rider and a bit in her mouth.
Last time Calinka did some dressage we got interrupted by the weather so we continued. It went fine but she was stiff and probably didn't work as good as she can. But, all gaits worked for me and that's the best of it all!
http:///ullekalv.se/wp-content/uploads/2015/09/ullekalv_header_logo.png
0
0
Ingrid Amadori
http:///ullekalv.se/wp-content/uploads/2015/09/ullekalv_header_logo.png
Ingrid Amadori
2012-06-13 22:44:00
2012-06-13 22:44:00
Sommarkväll