Äntligen – alla hästar motionerade samma dag!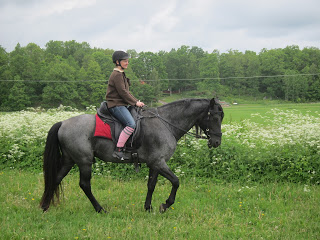 Maria följde med mig och red Pepper – han skötte sig bra men blir trött fort. Det känns och ser ut som om han börjar komma i form, men, på unghästvis, har svårt att orka hela tiden. Han behöver bara lite tid. Det var inte alls tänkt att vi skulle ta honom – men had stod vid grinden och verkade sugen på att jobba, så varför inte?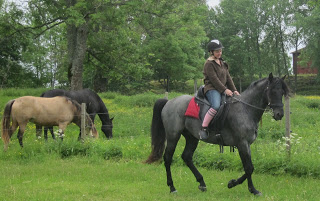 Close to the mares – no problems!
Percy blev longerad en stund – och visst kan hon gå på volt… Jätteduktig var hon! Calinka hittade jag en bättre uppsittningsplats till och red dressyr på. Hon var stel och vi hade precis börjat komma i rätt riktning när regnet kom och då kunde Calinka inget alls – bara stå med rumpan mot regnet. Visst hade jag kunnat tvinga henne, men det verkade inte värt besväret. Precis som jag trodde hade det slutat regna när jag släppt henne i hagen och förbrett mig för nästa sak – hagfix.
Men, jag jobbade på med den nya hagen, det finns massor med elvajer men tyvärr är den till största delen en stor knut så det går inte fort… Jag insåg också att Calinka är bra rund, men är mer appelkastad och ser nöjdare ut än någonsin. (Även Percy börjar ha en ordentlig mage)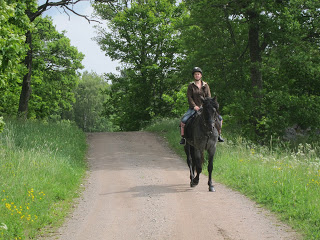 Finished with a 10 minutes "trail ride".
Maria joined me and rode Pepper. He behaved well but got tired quickly. It looks and feels like his is starting to collect, but, as a youngster, he fins is hard to maintain that all the time. He just needs some time. We hadn't planned to work him, but as he stood at the gate and seemed eager to work – why not?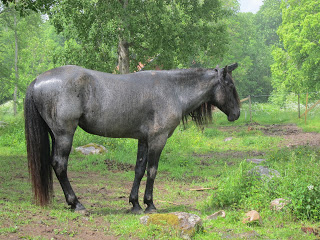 It started to rain..
I longed Percy a while – and she can do circles… She was really good! I found a better place to get on Calinka and then we did some dressage. She was stiff and had just started to solve that when it started to rain. The Calinka couldn't do anything – just stand in the best direction to avoid the rain I could have forced her but it didn't seem to be worth the work needed. When I had put her back in the pasture and prepared everything for my next task – fencing – it stopped to rain.
I worked with the new pasture, there is a lot of electrical wire, but it is all in a big mess so it takes a lot of time…I also realized that Calinka is rather round, but more dapples and looks more content than ever. 8Even Percy is starting to have a large belly).
http:///ullekalv.se/wp-content/uploads/2015/09/ullekalv_header_logo.png
0
0
Ingrid Amadori
http:///ullekalv.se/wp-content/uploads/2015/09/ullekalv_header_logo.png
Ingrid Amadori
2012-06-10 16:06:00
2012-06-10 16:06:00
Äntligen – alla hästar motionerade samma dag!