Ont om tid, som vanligt, igår när det var dags för hästmotion.
Tömkörde Pepper – det var ju ett tag sedan sist och tur var nog det. Det höskördade precis överallt runtomkring och det är inga små traktorer precis… Så, han skötte sig fint och fick ett lagom jobb. Calinka hade jag gärna tagit en längre galopprunda med, men vi höll oss på dressyrbanan. var nog även det, med tanke på alla traktorer, en bra ide. På henne blev det dressyr och oj så stel hon var i höger sida.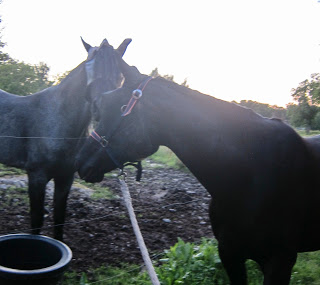 Efteråt han jag låta Calinka hästa lite på Pepper – han mullrade lågt, men inte är Calinka så intresserad inte. Percy fick även hon hälsa och hon var som en blyg skolflicka. Vågade inte riktigt nosa på Pepper trots att han inte alls var särskilt framfusig utan riktigt hövlig i mina ögon. Allt detta i ett försök att få damerna att komma i brunst – de hoppade ju båda nästan helt över förra brunsten och jag har fortfarande en förhoppning om att betäcka i år…
Konstigt nog blev det alltså, med tanke på de yttre förutsättningarna, en riktigt bra träning av hästarna! och i lösdags var jag och Maria på distanstävling – vi får väll se om vi kan ha någon häst med nästa år – nu vet vi ju mer om hur det går till…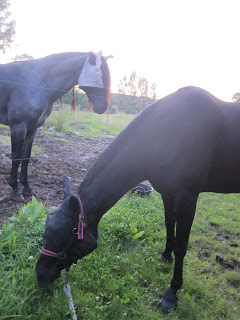 To less time for horse training, as usual.
I long reined Pepper – it was some time since last time. It was a good choice – they harvested hay close by and those tractors wasn't small or drove slowly… He worked nicely and got a good work. I had preferred to canter Calinka out on the roads, but we did some dressage bare back. That was probably a good idea as well with the tractors in mind.
Afterwards Calinka said hello to Pepper over the fence. He neigh with a dark voice, but Calinka wasn't very interested. Percy also got to say hello – she was like a shy school girl. Wasn't really confident enough to snif at Pepper even if I thought he was a real gentlemen. All this just to try to get the mares in heat – they both nearly skipped last one and I still haven't given up to breed this year.
Strangely enough I managed to work all horses well – according to the "environmental" factors.And during Saturday Maria and I was at an endurance ride competition – maybe next year we have a horse that can compete as well…
http:///ullekalv.se/wp-content/uploads/2015/09/ullekalv_header_logo.png
0
0
Ingrid Amadori
http:///ullekalv.se/wp-content/uploads/2015/09/ullekalv_header_logo.png
Ingrid Amadori
2012-07-16 23:02:00
2012-07-16 23:02:00