Nordic Championships for Icelandics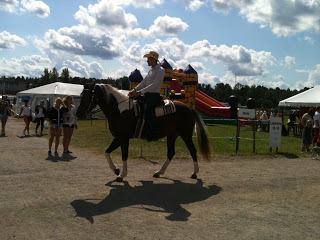 Classic's Julie (Spotted Mountain Horse) and Jonas Frändén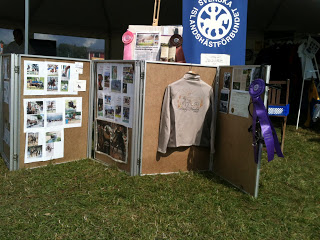 The stand, the ribbons I got as a gift from last years International Show (Kentucky) came to use as well as my jacket and browband…
I helgen har jag stått på NM för Islandshästar för att informera om Rocky Mountain hästen, men även andra raser med en extra gångart. Under lördagen var det dessutom en uppvisning med en Saddlebred , två töltande travare och en Spotted Mountain Horse. Med lite tur kommer det även att komma bilder med tiden. Som det är nu får det duga med en bild över den information som vi hade med och ett par bilder som jag lyckades ta med telefonen när jag smet ifrån montern ett par minuter… Jag är ledsen för att det inte fångat hästar och ryttare i bästa tillfällena.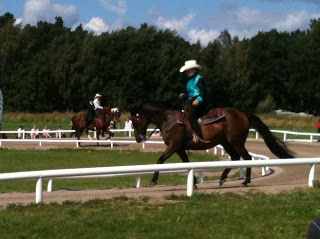 Standardbred and Sarah Isaksson
Det visade sig även att den andra Rocky Mountain hästen som jag hade hört talas om var en Spotted Mountain Horse –
Classic's Julie på bild nedan. De har ytterligare en häst, som inte var med:
Rocky's Count Chocula som de på sn hemsida säger är en Kentucky Mountain Horse. Mer information om de hästarna finns på deras egen hemsida. De var i alla fall kul att få träffa andra mountainhästar i Sverige med ägare och få bekräftat att de kan vara dem jag har hört tidigare rykten om.
Riders of the other gaited horses:
Therese Larsson and Anna-Lisa Lundqvist – Sayyad's – American Saddlebred and Icelandics Horses
Sarah Isaksson – Aranels – American Saddlebreds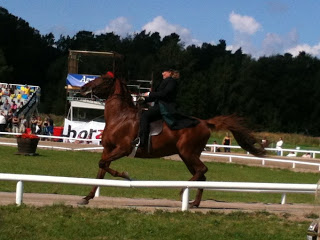 The Saddlebredde "Dolly" with owner Therese Larsson
This weekend I have been informing about Rocky Mountain Horses but also other gaited breeds at the Nordic (Iceland, Denmark, Sweden, Finland and Norway) Championships for Icelandic horses. During Saturday there was a show with gaited breeds as "lunch entertainment". It was one Saddlebred, one Spotted Mountain Horse and two racking Standardbreds. With a bit of luck I get better pictures of them later on, now I only have a few that I took with my phone while I left the information for a couple of minutes… I am sorry that I didn't capture pictures from the best moments.

I also learn that the other Rocky Mountain Horses I was told about was a Spotted Mountain Horse – Classic's Julie and Kentucky Mountain Horse – Rocky's Count Chocula. More information about them is found on there own webpage (in Swedish). It was nice to finally meet one of theses horses (and owners) in person and to verify that the rumors I have heard about Rocky Mountain Horses in Sweden before probably comes from theses two individuals.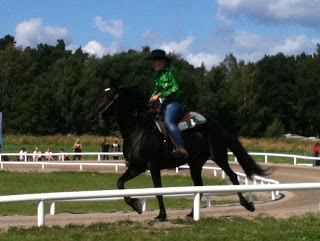 Standardbred and Anna-Lisa Lundqvist
http:///ullekalv.se/wp-content/uploads/2015/09/ullekalv_header_logo.png
0
0
Ingrid Amadori
http:///ullekalv.se/wp-content/uploads/2015/09/ullekalv_header_logo.png
Ingrid Amadori
2012-08-05 21:12:00
2012-08-05 21:12:00
Nordic Championships for Icelandics