När man startade rasföreningen för rockyn 1986 kom en hingst att bli den dominerande, den vars stam man helst ville att hästarna skulle ha i sin stamtavla för att klassas in som rockys. Den hingsten var Tobe (född 1942). Bara fem av Tobes söner kom att registreras i det nya rasförbundet (RMHA). I dagsläget lever ingen av hans avkommor och få av hans barnbarn.
En av dessa barnbarn är Footy. Han är son till en av dessa fem hingstar: Sewell's Sam. För att se hur ovanlig Footy är sökte jag i RMHAs databas efter hingstar med samma far för att se hur många som fortfarande verkade vara aktiva i aveln. Jag hittade två stycken – Cedar Hill Sam (född 1997) och Sam I Am (född 1998). Båda hade en avkommor från 2018. Jag tittade inte tidigare än till hingstar som var födda före 1991, äldre än så tänkte jag att det inte var så troligt att de fortfarande var verksamma i aveln.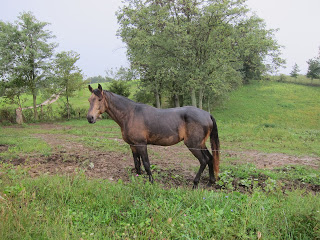 När jag börjat kolla var det intressant att se hur det var med övriga Tobe söner. Sam Clemon's Tim hittade jag ingen son som fått föl på minst tio år. Yankee hade två söner Yankee's Traveller (född 2002) och Yankee's Rising Star (född 1993). Maple Squirrel har tre söner Squirrels Pet (född 1999), Classic Squirrel (född 1996) och Squirrel Too (född 1997) som fortfarande verkar vara i avel. En av dem, Classic Squirrel , var den hingst jag försökte få Honey dräktig med innan hon kom till Sverige.
Tre av dessa barnbarn till Tobe träffade jag i USA 2011 – Cedar Hill Sam, Yankee Traveller och Spanish Sundown. Särskilt Cedar Hill Sam imponerade på mig, han och husse verkade ha ett väldigt speciellt band och det fanns en utstrålning kring den killen. Spanish Sundown var inte dum han heller, men kanske hade jag bara ögon för Pepper när jag var hos Rea Swan som äger Spanish Sundown och jag köpte Pepper ifrån. Yankee Traveller gick i en hage och var mest blöt så honom såg jag aldrig på så nära håll.
Dessa fem hingstar har präglat rasen hårt och nästintill varje idag levande rocky har minst en av dem i sin stam. Vissa har alla fem, som min Percy. Men, nu börjar många ha dessa hingstar i fjärde, femte led. Ett sätt att komma närmare ursprunget igen är därför att, så länge det är möjligt, åter använda hingstar med en stam så nära grundarens. Jag har tittat på inavelssiffror mellan mina ston och Footy och de har inte sett särskilt höga ut, mer om det i ett eget inlägg senare.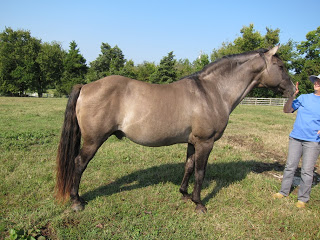 Kilburn's Chocolate Sundown är den av de fem som har flest registrerade avkommor och han har också flest som fortfarande verkar vara aktiva i aveln. Fyra av hans avkommor har fått minst ett föl registrerat i RMHA de senaste sex åren. Sundown's Diamond Rio (född 1998, Last of the Mohicans (född 1998), Sundown's black Shadow (född 1996), Spanish Sundown (född 1996).
What makes Footy's pedigree special?
When the breed association for the rocky was started in 1986 one stallion was the dominant one, the one that had the pedigree that horses in the society nearly have to had to be accepted in the books. That stallion was Tobe (born 1942). Only five of Tobe's sons were registered in the new association (RMHA). Today none of Tobes descendants live and few of his grandchildren.
Footy is one of those grandchildren. He is by Sewell's Sam. Just to see how rare he was did I look into RMHAs pedigree database after stallions from Sewell's Sam that seemed to still be breeding. I found two – Cedar Hill Sam (born 1997) and Sam I Am (born 1998). Both had an offspring registered form 2018. I didn't look at stallions that was born before 1992 as I thought that it wasn't very likely that they still breed.
When I already had started did I also look into the other of the five sons of Tobe. Sam Clemon's Tim had no sons at all that had offspring in about ten years. Yankee had two sons (Yankee's Traveller born 2002 and Yankee's Rising Star born 1993). Maple Squirrel has three sons Squirrels Pet (born 1999), Classic Squirrel (born 1996) and Squirrel Too (born 1997). One of them, Classic Squirrel is the stallion that I tried to get Honey in foal with before she came to Sweden.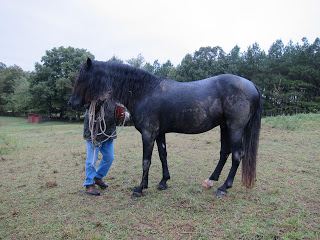 Kilburn's Chocolate Sundown is the one of the five that has most registered offspring and he also has most offspring that still is breeding. Four of his sons has at least one registered offspring in RMHA the last six years. Sundown's Diamond Rio (born 1998, Last of the Mohicans (born 1998), Sundown's black Shadow (born 1996), Spanish Sundown (born 1996).
I met three of those grandsons to Tobe when I went to US 2011 – Cedar Hill Sam, Yankee Traveller and Spanish Sundown. Especially Cedar Hill Sam stood out in my eyes, he and his owner had such a special bond. Spanish Sundown wasn't that bad either, but I had my eyes more fixed on Pepper, that I later bought when I visited Rea Swan. Yankee Traveler was in a pasture and I never saw him close up.
Those five stallions has been marking the breed a lot and nearly all living rockies today have at least one of them in their pedigree. Some, as my Percy, has all five. But, it seems as the time pass by Tobe gets further and further back in the pedigree, five, six generations away. One way to add some older foundation blood is therefore to use those old stallions. I looked for inbreeding scores before buying Footy and they don't become very high just because he has old bloodlines. But more about that in another post.
http:///ullekalv.se/wp-content/uploads/2015/09/ullekalv_header_logo.png
0
0
Ingrid Amadori
http:///ullekalv.se/wp-content/uploads/2015/09/ullekalv_header_logo.png
Ingrid Amadori
2019-09-29 06:37:27
2019-09-29 06:37:28
Vad gör Footys stam speciell?