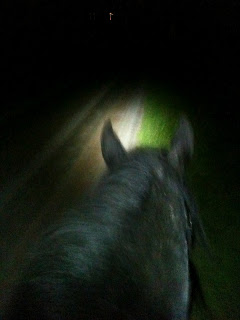 Pepper and the lamp.
Vår och sommar är mina årstider, ljuset, grönskan, värmen. Hösten och vintern däremot… Visst finns det fina dagar då med men helst vill jag bara krypa upp i soffan, titta på TV eller läsa en bra bok under en filt. Nu börjar den tid som innebär ett konstant mörker alla vardagar i stallet, reflexer, pannlampa och mycket kläder. Regn, rå luft och grå himmel. Känns det lockande? Kolla bilden på mig så säger den en del om min inställning igår när jag åkte iväg till stallet. Ruggig, kall, men mössa och vantar för första gången på länge. Och ett stall fullt med hästar som behövde jobbas.
Väl i stallet jobbade jag upp lite värme. In med alla hästarna (Pepper och Percy rejsade upp). Snabbt på med utustning på Pepper i ett försök att hinna iväg innan det var kolsvart. Det lyckades nästan. Och så iväg. Pannlampapn igång direkt och bort på grusvägarna. Väldigt snart njöt jag fulla drag av min häst, och han med. Fast plötsligt fanns det lite konstiga saker att titta på – världen blev lite annorlunda när den lystes upp av en pannlampa. Mycket trav och så lite galopp. Vändning hem, galopp igen och poff – någon form av "skolor över marken". Dvs det kom en bil på vägen en bra bit bort och jag kan förstå att Pepper undrade vad skjutton det var när vi galopperade och den måste dykt upp snabbt i hans synfält. Nåja, jag satt kvar, fick snabbt kontroll på hästen coh det var bara att fortsätt. Men jag lärde mig en sak – om Pepper lär sig bocka är risken stor att åka av, han är smidig, mjuk och har bra tryck i sina skutt! Inga problem att snurra 360 grader, bocka utan att sänka huvudet och hoppa högt alltså, skulle jag tro. Hoppas att jag aldrig får veta säkert om jag har rätt.
Väl hemma bytte jag häst och tog ut Calinka på lite dressyrträning. Hon var otränad men fin. Passade dessutom på att testa min barbackasadel. Tror den fick bra betyg då det var länge sedan jag tyckte att jag jobbade så bra som ryttare. Härlig ridning i vilket fall som. Percy och Bunnt tiggde om att få göra något så de fick båda var sin kort promenad i mörkret med pannlamp. Det är bara för dem att vänja sig för mina jobb med dem framöver kom troligen att ske i mörker. Totaltid: 2,5 timmar. Själv kände jag mig väldigt nöjd med att ha gjort ett bra jobb med alla hästarna. Vilken tur att jag har hästarna som får mig att tycka hösten och vintern är så ok att jag inte går i ide.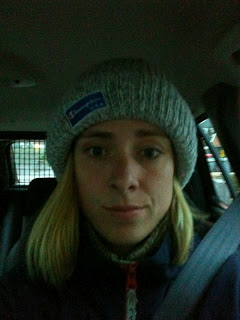 Me going to the stable – don't I look happy?
Spring and summer is my seasons, green, light, sun. Autumn and winter on the other hand… There is nice days even then, but most time I would just like to sit in the sofa, watching TV or reading a good book. Now starts the time that means darkness while I visit the stable during the week. Reflexes, head lamp and a lot of clothes. Rain, a moistly air that gets to your bones and a grey sky. Seems tempting? The picture of me tells me a bit about my feeling yesterday when I went to the stable. Frozen and cold, bringing gloves for the first time in a long time. And a stable full of horses that needs to be worked.
I brought all horses in (Pepper and Percy had a race to get indoors) and got a little bit warmer doing that. Quickly I prepared Pepper and tried to get away before it got pitch dark.I nearly made it. The head lamp guided out way on the road. Soon I enjoyed it a lot, as well as Pepper. Even if he found some strange things as the lamp light turned the world different. We trotted a lot and cantered a bit. Turning back home, canter and – bam – some kind of "haute ecole". It turned out that a car had passed by far away on the bigger road behind Pepper and I really understand that Pepper didn't really get time to figure it out as we cantered. Well, I was still in the saddle and got control of the situation rather fast. But I learnt one thing – if Pepper ever gets into bucking I probably will fall of. He is very athletic, have good jumping ability and is very smooth in his movements. He wouldn't have any problems with 360 degree turns, bucking without getting his head down and can still jump high. I hope I never knows if I am right in this assumption.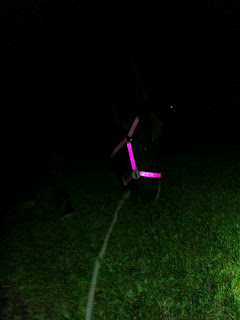 Something in the darkness
Back home I changed horse and did some dressage with Calinka. She was untrained but working nicely.I also tried my new bare back saddle on her and I think it was ok. At least it was a long time since I found my self working so much with myself, feeling as if I was sitting correctly. Nice time any way. Percy and Bunny just begged to get attention and work so I brought them out for a short walk to teach them how my lamp works. They have to get used to that as all my exercise during the weeks is going to be in the light of that lamp for a long time. Totally I spent 2.5 hours in the stable. And all horses got attention and something appropriate for them to do. I am so lucky to have horses that gives autumn and winter a meaning.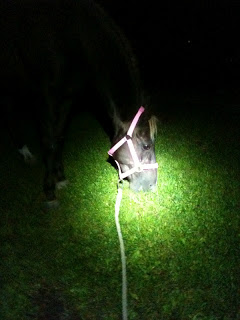 Bunny and I taking a short walk.
http:///ullekalv.se/wp-content/uploads/2015/09/ullekalv_header_logo.png
0
0
Ingrid Amadori
http:///ullekalv.se/wp-content/uploads/2015/09/ullekalv_header_logo.png
Ingrid Amadori
2012-09-25 21:13:00
2012-09-25 21:13:00
Mörkret kommer