Percy är dräktig!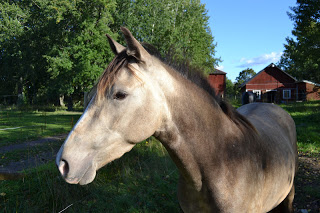 Knut var förbi idag och veterinärbesiktigade Bunny som skötte sig perfekt. Böjprov på bakbena som hon för bara några dagar sedan inte ville lyfta alls gick utmärkt. I övrigt gick besiktningen också bra. Och nej, Bunny är inte såld, man behöver besiktiga hästar som kommer till Sverige för att få försäkra dem ordentligt. Vi tog även ett blodprov på Bunny för att se om hon fortfarande är dräktig så det har jag inte fått svar på henne. Dessutom fick alla hästarna en vaccination.
Medan Percy vaknade till efter ultraljudet (hon fick lite lugnande) var vi tvungna att vänta – så då red jag och Maria lite lungt på Pepper och Calinka. Maria valde dressyrbanan med Pepper och jag tog Mika på släp på en ute tur. Men Mika var inte så imponerad och stannade och sinkade oss ganska bra. Även när hon fick gå helt lös. Jag som trodde hon var en snabb hund…
Knut passed by today and vet checked Bunny that behaved perfectly. The flexion test on her hind limbs worked perfect – just a few days ago she didn't lift them at all. Everything else with the check worked out good as well. And no, I haven't sold Bunny, I have to get a vet check to get a normal insurance on her. The vet also draw a blood sample from Bunny to detect if she still is pregnant, and I haven't yet got the answer from that. And all horses got vaccinations.
While Percy woke up after the ultra sound (she got some tranquilizers) we had to wait – so Maria and I rode Pepper and Calinka. Maria took Pepper to the arena while I got Mika on leash and took a short trail ride. Mika wasn't very impressed and slowed us down a lot. Even when I let her run free. I thought she was a fast dog…
http:///ullekalv.se/wp-content/uploads/2015/09/ullekalv_header_logo.png
0
0
Ingrid Amadori
http:///ullekalv.se/wp-content/uploads/2015/09/ullekalv_header_logo.png
Ingrid Amadori
2012-09-19 16:43:00
2012-09-19 16:43:00
Positivt veterinärbesök