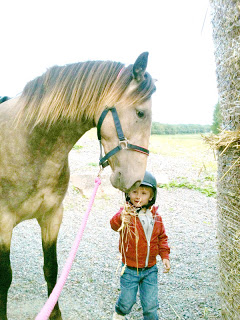 Åter igen springer tiden, så det får bli en sammanfattning av vad som hänt sedan sist:
Tisdag: Maria tog ut Calinka på en sväng.
Onsdag: Jag tömkörde Pepper som inte alls var så motiverad som senaste gångerna. Konstaterade även att Calinka brunstar och flörtar med Pepper.
Torsdag
: Tanken var att trimma, men trimmern la av så jag red ut
på Pepper en kort vända istället.

Maria red dressyr på Calinka. Sedan promenerade vi Bunny och Percy runt husen. Hjälp vad det blir mörkt tidigt, det blir till att plocka fram reflexer och pannlampa.
Fredag: Resten av familjen åkte bort så jag hann lägga lite tid i stallet, pysslade och fixade, putsade fönster, städade, tja sådana där roliga saker.
Söndag: Isac red Percy i sin nya sadel (bättre storlek för honom än min), jag tömkörde Calinka och Isac red på henne till dressyrbanan – tömkörningsgjorden är bra att hålla sig i. Bunny fick också agera ridhuset åt isac, fast bara när hon stod inne. Och jag lyckades få min pappas trimmer att stanna när jag hade trimmat ett tag…
And once again time flies away. Here is a short update about the past week:
Tuesday: Maria took Calinka for a trail ride.
Wednesday: I long reined Pepper and he was not at all as motivated as last time. I also concluded that Calinka was in heat and flirted with Pepper.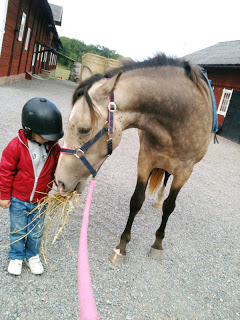 Thursday: I planned to cut grass around the fences but the machine died so I changed my plans and took out Pepper for a 30 minutes trail ride.Maria did some dressagework with Calinka and afterwards we took Percy and Bunny for a walk around the houses.
Friday: The rest of the family left for the weekend so I finally had time to do some of those fun things – like cleaning in the tack room.
Saturday: I was at my sisters bachelor party, and Mimmi rode Pepper and long reined Percy.
Sunday: Isac tried his new saddle (a better size for him than mine), I long reined Calinka and Isac sat on her back while we walked to the arean and back. Bunny also tried to be a horse for Isac – but just in the stall. And I managed to clean up a bit around the fence with dads machine that I borrowed – then taht one also died…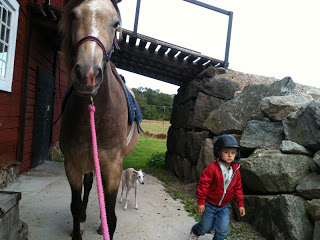 Why not bring horse + child + dog for a walk?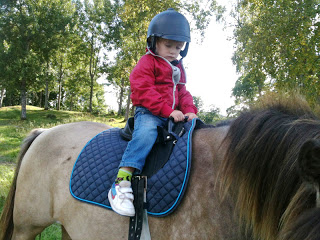 The new, shetland ponny saddel – seems to work on a Rocky as well.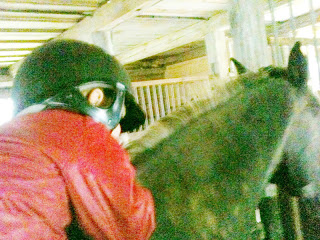 Isac wants to lay down on Bunnys back.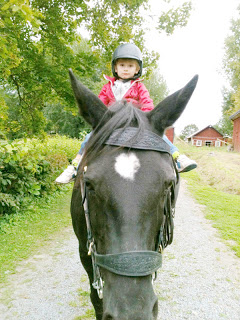 On the way to the long rein sesion with Calinka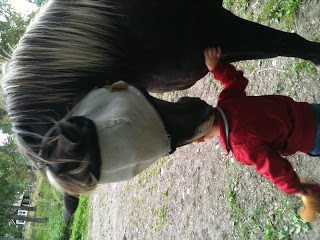 Bunny finds Isac very interesting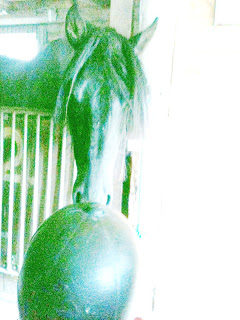 Pepper also wants to say hello to Isac (that wears a helmet in the photo).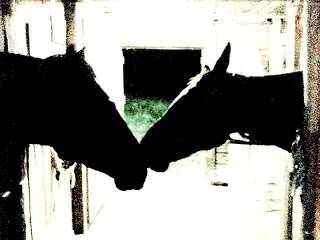 Indoor flirt.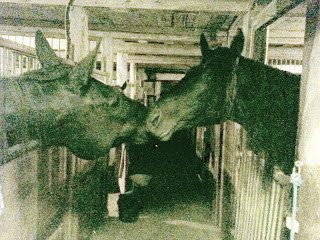 More indoor flirt between Calinka and Pepper.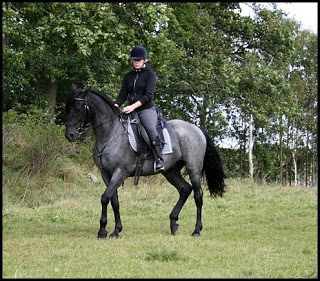 Mimmi and Pepper
Mimmi and Pepper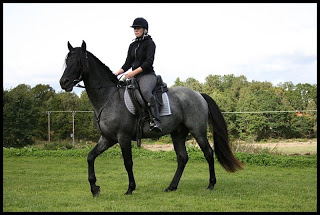 Mimmi and Pepper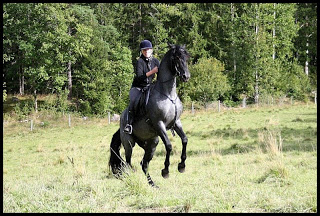 Apperently Pepper reared at command accordning to Mimmi- no one know who taught him that.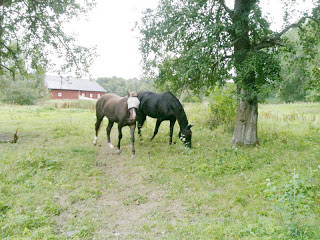 Calinka and Bunny get along very good together.
http:///ullekalv.se/wp-content/uploads/2015/09/ullekalv_header_logo.png
0
0
Ingrid Amadori
http:///ullekalv.se/wp-content/uploads/2015/09/ullekalv_header_logo.png
Ingrid Amadori
2012-09-10 05:42:00
2012-09-10 05:42:00
Veckan som gått