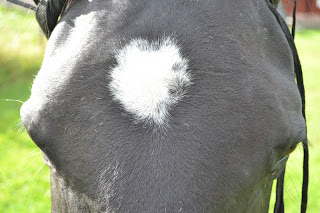 Jag gillar ston med virvlar i pannan, närmare bestämt två virvlar. När jag var tretton år berättade en tjej vars ponny jag skulle börja rida om att hästar med två virvlar i pannan var speciella. Att de var lite knäppa på något sätt. Hennes egen tvåvirvlade valack älskade att hoppa, men vägrade ut sig på alla tävlingar. Efter det började jag kolla på det här med virvlar och kom att läsa mer om dem. Vissa verkade tycka att de var rakt igenom knäppa, medan Linda Tellington påstod att de hästarna var reaktivare, kunde överreagera i viss, oväntade situationer. Lite speciella hästar helt enkelt. Jag vet inte hur det är med den saken, men ett är då säkert, Calinka har två virvlar och döm om min förvåning när både Percy och Bunny visade sig ha det. Det var inte alls det jag valde dem på.
Frågan är ju om man ska tro på detta om virvlar, det finns ju många olika sägner om yttre attribut, färger, tecken med mera som avgör om det är en bra häst. Jag tror ju att det är mest skrock. Hur har jag då upplevt mina dubbelvirvlade damer?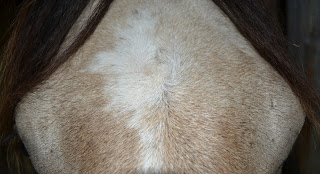 Calinka har genom åren visat sig var en egen dam dam som då och då i mina ögon har just överreagerat. Vissa saker får henne bortom kontakt – diken med vatten har varit en sådan vända trots att både diken utan vatten och vattendrag fungerade utan problem. Percy har redan visat att hon är speciell, hon verkar ha en lika speciel personlighet som färgväxling; bara detta att hon kunde styra betäckningarna i hagen. men även denna dam kan ibland bli en dramaqueen, som när hagen öppnades under Riddarspelen – då var hon inte riktigt kontaktbar och sprang bara omkring. Jag kommer inte att bli ledsen om Bunny följer i deras hovspår, jag gillar stonas personlighet! Ston vet jag inte varför jag faller mest för. Det är ju praktiskt om man tänkt avla, men mina favorithästar har alltid varit ston. På något sätt kommer vi väldigt bra överens
e.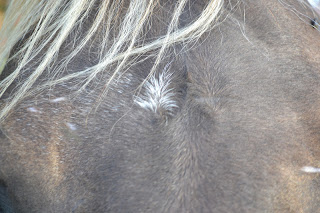 Pepper däremot har bara en, enkel virvel i pannan, och inte har det gjort honom mindre speciell! Han har snarast visat sig var något alldeles extra, trots bara en virvel och att han inte är sto. Det är nog den första häst av manligt kön som verkligen är speciell för mig även om jag gillat ett par andra mycket med.
I like mares with whirls in their front, more specific with two whirls. When I was thirteen a girls, who's horse I was going to start to ride about whirls and that those with two was special. Her own "two whirl" gelding loved to jump but always got dismissed at competitions as he then refused to jump. After that I started to look at horses heads and hear more about whirls. Some people seemed to think that they were nuts, while Linda Tellington said that most was more reactive than other horses and could over react in some situation. A little bit special. I don't know how it is about those things but Calinka has two whirls and boy, didn't I get surprised when both Percy and Bunny has that as well. That was not why made me chose them.
I don't know how serious I rate those tales about whirls, there are so many about a specific color, marking etc that makes be believe it is most old stories. How do I think my double whirled ladys is?
Calinka has during the years proved her self to be a special lady that sometimes over react. Ditches with water for example… they were impossible to cross – but ditches without water or ponds was ok. Percy has already showed that she is as special as her color – and a bit of a drama queen. It amazes me how she could refuse breeding in the pasture and when the horses got out of the pasture during Easter she was not really contactable – she that usually just comes up to you. I am not going to be sad if Bunny follow their hoof print. Why I like mares is even more hidden in the dark – by some way my favorites have always been mares. We juut seems to get along.
Pepper on the other hand has only one whirl and he is very special as well, even if he isn't a mare either! He is the first male horse that I really, really like, even if I have had a couple before that have been very good horses.
http:///ullekalv.se/wp-content/uploads/2015/09/ullekalv_header_logo.png
0
0
Ingrid Amadori
http:///ullekalv.se/wp-content/uploads/2015/09/ullekalv_header_logo.png
Ingrid Amadori
2012-09-05 21:27:00
2012-09-05 21:27:00
Virvlar