Vädret har inte varit sammarbetsvilligt denna vecka, när regnet äntligen slutade hälla ner blev det blötsnö i samma mängd istället. Alla hästarna har fått täcken eftersom detta är ett väder som jag tycker är riktigt tråkigt och nedkylande. Tyvärr har inte ens täckena fungerat perfekt – för första gången har det regnat igenom några av dem… Pga vädret har det nästan varit omöjligt att jobba hästarna när man har en trött treåring med sig och begränsat med tid. Trots det lyckades vi ta ut Bunny på en kort ridtur (10 minuter?) runt byggnaderna med Isac på ryggen och i snövädret. Väl iväg insåg jag att det nog var första gången Bunny hade en ryttare med pannlampa. Hon frustade lite vilket betyder att hon inte är helt avslappnad, men skötte sig fint.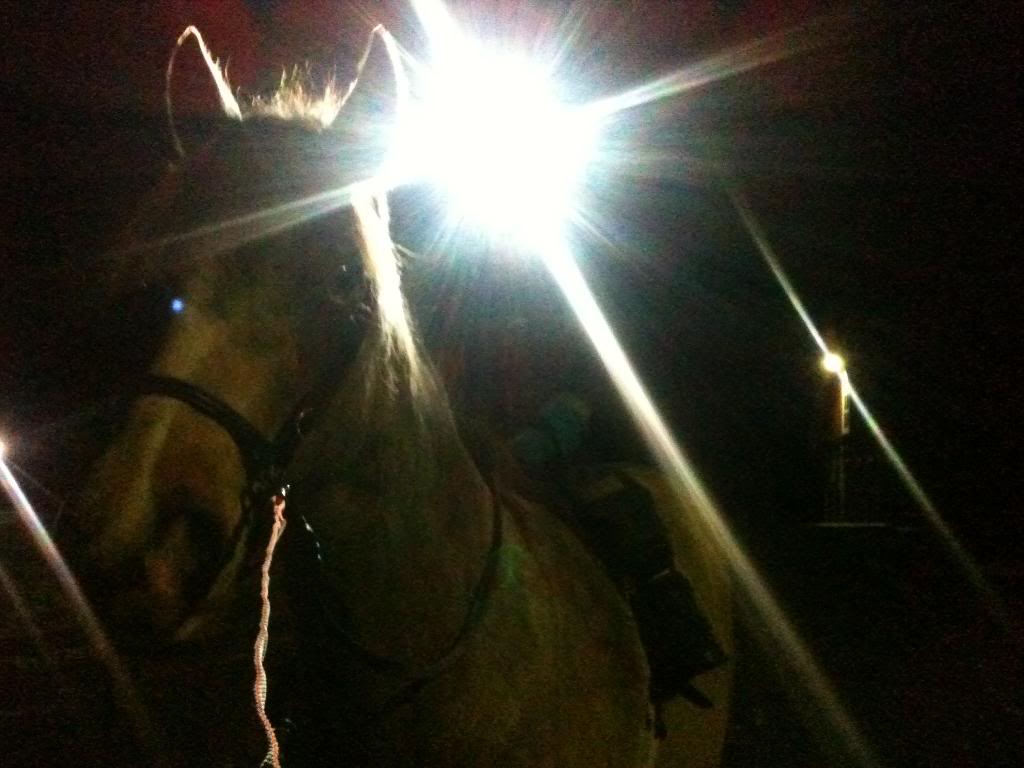 Isac and Percy
Idag var det äntligen uppehålla och kring nollan så vi lyckades ta Percy på samma promenad. Då fick Isac även prova att tölta – kul! När jag berättade om trav för honom blev han inte alls imponerad – verkar som om han kommer att välja gångartshästar om han blir ryttare. 🙂
Och, nu börjar jag se slutet på denna vecka. Imorgon kommer hovslagaren medan Isac är på dagis och sedan kommer äntligen mannen hem. Det positiva med veckan har varit att mina kvällar plötsligt har varit lediga så jag har för en gångs skull hunnit ringa alla jag borde höra av mig till (eller nästan alla). Därmed har det inte heller blivit några tidiga kvällar som jag blåögt trodde när veckan inleddes. Maria har också offrat sig i det underbara vädret och varit ute med en överpigg Pepper som mest visst liknade en kanin samt tagit Calinka på en skrittur.
The weather this week hasn't been cooperative; when the rain finally stopped pouring down the snow started, the wet, nearly rain kind of snow. Therefore I put rug on all horses – that is really the kind of weather that makes them freeze. Sadly the rugs didn't work perfectly, for the first time some of them got wet straight thru… With this kind of weather it has been nearly impossible to work the horses with a tired three years (child) and limited time. But, we managed to walk Bunny around the barns (10 minutes?) with Isac on her back yesterday. When we had left the stable I realized that it probably was the first time she had a rider with a lamp on his head. She got a bit nervous and showed that by small snorts, but behaved well.
Today it finally had stopped to fall things from the sky and we managed to walk Percy the same road as Bunny took yesterday in the snowfall. Isac also got to try some gait – fun! When I told him about trot he didn't want to learn about that but stay with amble, seems as he is going to go gaited if he becomes a rider one day. 🙂
I finally starts to see the end of this week. Tomorrow the farrier arrives while Isac is in pre-school and my husband arrives. The positive thing about the week has been that I found time to keep in contact with some friends over the phone. But that made my early evenings to disappear. Maria has also contributed and dragged her self out in the terrible weather with Pepper that was more like a rabbit with all the energy and snowfall. She also brought Calinka for a walk.
http:///ullekalv.se/wp-content/uploads/2015/09/ullekalv_header_logo.png
0
0
Ingrid Amadori
http:///ullekalv.se/wp-content/uploads/2015/09/ullekalv_header_logo.png
Ingrid Amadori
2012-11-29 20:19:00
2012-11-29 20:19:00
Ensam med barn II