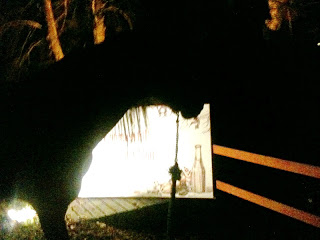 Pepper checking out the welcome sign.
I måndags skulle jag då äntligen rida – Pepper harsett fin ut under tömkörning i två veckor så jag räknade med att han skulle bli glad åt att komma igång igen. Som förberedelse longerade jag honom några varv och jovisst, hästen ser inte helt ut som han ska. Antagligen har han blivit dålig av att inte gå med täcke de senaste två dagarna… Min slutsats blir att jag nu mer har två primadonna hästar: Calinka och Pepper. De behöver tydligen täcken och om Pepper följer Calinkas exempel, kiropraktor och massor med andra specialsaker och behandlingar. Tala inte om möjligheterna för honom!
Calinka såg lite bättre ut, men fick gå kvar i sin lilla hage, förhoppningsvis kan jag snart släppa ut henne. Bunny däremot såg sämre ut, såret verkar vara djupare än vad jag trodde och hade varat en del och svullnadnen hade sjunkit ner till skenan.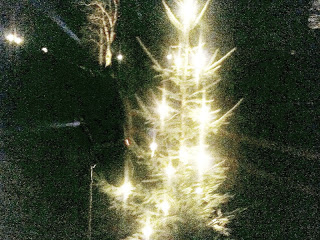 Even with some manipulation to the photo it is hard to find Pepper…
Tisdagen blev en uteritt med Percy – jag smilade mest hela tiden. Hon är så rolig och härlig. Själv, i mörkert och med pannlampa, trots det tyckte hon det var kul. Sjuklingarna såg (tack och lov) lite bättre ut.
Onsdagen blev en promenad med Pepper och Mika samt en koll på förberedelserna till julmarknaden – det är så vackert med alla lampor.
At Monday i planned to ride Pepper – he have been looking fine for two weeks now while I have long reined him. I suspected that he really would like to start to work properly again. To start with I longed him a couple of laps, and of course – he was not totally ok. He probably didn't handle to be without a rug for two days. I guess that he is trying to be as pampered as Calinka. If he follows her example he will soon demanding chiropractors, other treatment and special equipment. Don't tell him about that!
Calinka seemed to be a little bit better, but I let her stay in her small pasture, hopefully I soon can let her out with the others. Bunny on the other hand looked worse, the wound seems to be more severe than I thought and had some fluid and a lot of swelling.
Tuesday I finally got to bring Percy out for a trail ride – I smiled all the time. She is so much fun. She wasn't bother that she was alone in the darkness with just my lamp to guide us. The injured horses (luckily) seemed to be even better.
Wednesday turned out to be a walk with Pepper and Mika and a possibility to look at the preparation for the Christmas market that is going to be hosted thru Thursday to Sunday at the castle. All the lights are so beautiful.
http:///ullekalv.se/wp-content/uploads/2015/09/ullekalv_header_logo.png
0
0
Ingrid Amadori
http:///ullekalv.se/wp-content/uploads/2015/09/ullekalv_header_logo.png
Ingrid Amadori
2012-11-15 18:17:00
2012-11-15 18:17:00
Primadonnor