Vad är det med vänster fram?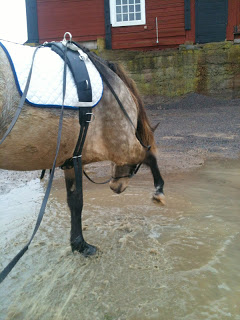 När jag kom upp på lsöndagenvar Calinka inte ett dugg bättre, så det får bli sjukhage med box ett tag så får vi se hur det verkar påverka. Jag såg därför extra mycket fram emot att få rida Bunny – det var flera dagar sedan jag satt på hästryggen! Så, inte blev jag särskilt glad när jag upptäckte att även Bunnys vänstra framben var skadadt – denna gång mest troligt en spark (från Percy). Hon verkade inte påverkad, men jag vill inte rida om hästen är rejält svullen. Däremot tog jag ut henne för att gå igenom en vattenpöl och testa tömkörning. Allt gick över förväntan och jag lyckades tömköra henne själv trots att hon inte gjort det tidigare. En sådan tjej!
Däremot undrar jag vad det är med vänster fram – är det något nytt mode att bli skadad där? På en vecka har nu alla tre stona gått igenom en skada på detta framben…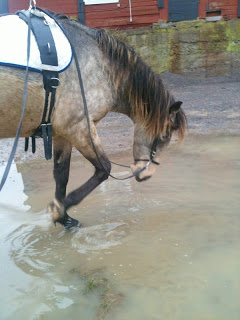 Percy verkar däremot vara bra nu och jag tömkörde även henne (för att verkligen se att hon var bra) och det gick bra. Även Percy fick leka i vattenpölen, vilket hon gjorde med besked. Plaska är kul! Mimmi tog ut Pepper på en promenad.
When I arrived at Sunday Calinka wasn't better so I put her in a small pasture for herself to see if that helps. As Calinka is out of order I looked forward to bring Bunny out – it was some days since I was on a horse back.When I found that Bunny also was injured at her left front foot I wasn't very pleased. Most likely from a kick (from Percy). She didn't seems to be affected, but I don't want to ride a horse that has a swelling. But, I got her out to show her a puddle of water and to try to long reine her. Everything worked out perfectly and there was no problems t long rein her all by myself even if she hasn't done that before. What a girl!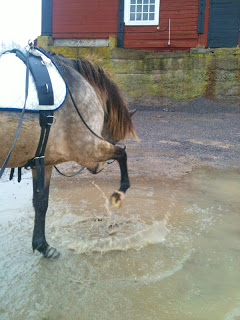 On the other hand I wonder what it is with the left front leg – is there a new trend to injure that leg? In one week all mares have been injured in that leg…
Luckily Percy seems to be ok now and I long reined her to confirm that, and she worked fine. I also showed her the puddle of water and let her play. She really liked that! Mimmi brought Pepper for a walk.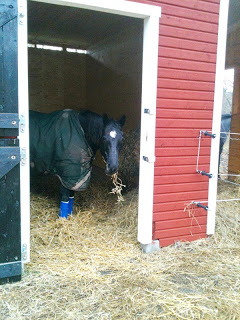 Calinka in her "isolation" pasture.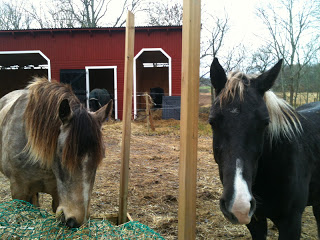 All horses in one pic – do you find all of them?
http:///ullekalv.se/wp-content/uploads/2015/09/ullekalv_header_logo.png
0
0
Ingrid Amadori
http:///ullekalv.se/wp-content/uploads/2015/09/ullekalv_header_logo.png
Ingrid Amadori
2012-11-12 17:43:00
2012-11-12 17:43:00
Vad är det med vänster fram?