Hästfärger – kommande föl
Så, hängt med ända hit?
Nu kommer det roligaste (enligt mig). Att använda informationen från tidigare.
Vad kan det bli för färg på kommande föl?
Först har vi Bunny. Hon har (troligen) genuppsättning EeaaZzrrnrn.
Hingsten hon betäcktes med, Union Blue, är: EEaazzRnrn
Det ger följande möjligheter:
EeaaZzRnrn – silversvartskimmel
EEaaZzRnrn – silversvartskimmel
EeaazzRnrn – svartskimmel
EEaazzRnrn – svartskimmel
Eeaazzrnrn – svart
EEaazzrnrn – svart
EeaaZzrnrn – silversvart
EEaaZzrnrn – silversvart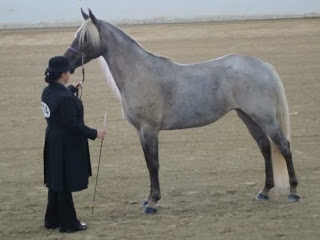 Chocolate roan/silverblack roan
Alltså 25% chans för vilken av kombinationerna som.
När hon får föl med Pepper kommer det att bli samma färgmöjligheter och kanske även rödskimmel och fux, om Pepper skulle visa sig ha ett e. Det är inte heller så svårt att förstå hur färgerna kan se ut, just nu finns ju en svart, en svartskimmel och en silversvart i stallet. Därför slänger jag in en bild på en silversvartskimmel (Sommarpälsad, Rocky sto på 4 år på The Internationals i Kentucky 2011 och om det är samma häst som jag hittat på en hemsida har denna individ dubbla silveranlag).
Sedan har vi Percy med genuppsättning: E?AaZzCrcrrnrn
Pepper som hon betäckts med: E?aazzcrcrRnrn
Nu gäller det att hålla tungan rätt i munnen…
Här blir det många kombinationer:
E?AaZzCrcrrnrn
E?AazzCrcrrnrn
E?AaZzcrcrrnrn
E?AaZzcrcrRnrn
E?AazzcrcrRnrn
E?AaZzcrcrRnrn
E?aaZzCrcrrnrn
E?aaZzCrrnrn
E?AaZzCrrnrn
E?AaZzCrrnrn
E?AaZzCrrnrn
E?AaZzCrrnrn
E?AaZzCrrnrn
Vänta, det blir lättare att stoppa in dessa data i en kalkylator och få fram svare tillsmmans med hur stor % möjlighet det är…. Denna gång använde jag
denna
.
Störst sannolikhet är att antingen Percy eller Pepper är EE på extension och då kommer fördelingen av färger att bli som följande. Däremot kan samma färg ha olika genuppsättningar. Kolla på exemplet för Bunny ovan, det finns två varianter hos henne som kan ge ett svart föl exempelvis.
Då behövs bara en översättning till svenska av färgerna:
| | |
| --- | --- |
| | Silver Black Silversvart |
| | Bay Roan Brunskimmel |
| | Black Svart |
| | Blue Roan Svartskimmel |
| | Buckskin Gulbrun |
| | Buckskin Roan Gulbrunskimmel |
| | Bay Brun |
| | Silver Bay Roan Silverbrunskimmel |
| | Smoky Blue Roan Gulsvartskimmel |
| | Silver Black Roan Silversvartskimmel |
| | Silver Buckskin Silvergulbrun |
| | Silver Buckskin Roan Silvergulbrunskimmel |
| | Silver Smoky Black Silvergulsvart |
| | Silver Smoky Blue Roan Silvergulsvartskimmel |
| | Smoky Black Gulsvart |
| | Silver Bay Silverbrun |
Skulle båda vara Ee på extension locus är det istället denna procentfördelning och färger som är möjliga. De färger som tillkommit är alltså: Fux, rödskimmel, isabellskimmel och isabell. Och hur ser alla dessa färger ut? Jag försöker ge några exempel från bilder som jag har.
| | |
| --- | --- |
| | Silver Black |
| | Buckskin Roan |
| | Blue Roan |
| | Black |
| | Bay |
| | Bay Roan |
| | Buckskin |
| | Silver Bay Roan |
| | Silver Bay |
| | Silver Black Roan |
| | Silver Buckskin |
| | Silver Buckskin Roan |
| | Silver Smoky Black |
| | Silver Smoky Blue Roan |
| | Smoky Black |
| | Smoky Blue Roan |
| | Chestnut Fux |
| | Chestnut Roan Rödskimmel |
| | Palomino Roan Isabellskimmel |
| | Palomino Isabell |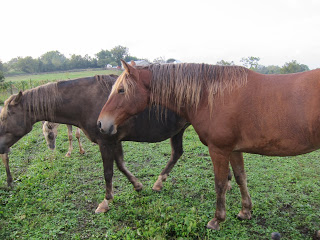 A silver bay in the front/silverbrun
Så vad vet vi om Percys avkomma med Pepper? Tja, det kan bli många olika färger där de flesta är ovanlig i Sverige. Det är mindre troliget att det inte blir någon av dess annorlund färger än att avkomman blir brun, svart eller fux. Och i och med att så många färggener är inblandade kommer det inte att bli lätt att se vad avkomman bär på så det är inte otroligt att den kommer att behöva testas för att få fram vilken färg den bär på.
Joined me until now?
Now comes the fun part (according to me). To use the infomration from previous posts and calculate the color possabilitys of the aspected foals.
Firs there is Bunny. She is (most likely) EeaaZzrnrn
She was coverd with Union Blue that is EEaazzRnrn
That gives the following possabilitys:
EeaaZzRnrn – silver blue roan (chocoloate roan)
EEaaZzRnrn – silver blue roan (chocolate roan)
EeaazzRnrn – blue roan
EEaazzRnrn – blue roan
Eeaazzrnrn – black
EEaazzrnrn – black
EeaaZzrnrn – silver black (chocolate)
EEaaZzrnrn – silver black (chocolate)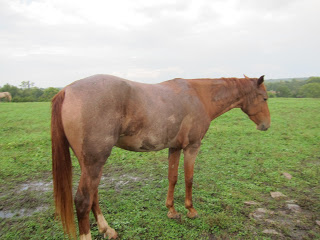 A wet red roan (Peppers half brother)/rödskimmel
And it is going to be a 25% chance for each color possability. When coverd with Pepper it is going to be the same color possabilitys, maybe with the addition of chestnut and red roan if Pepper is Ee at the extension locus. The colors of Bunnys offspring isn't hard to visualise, right now there is one black, onte silverblac and one blue roan in the stable. But I put in a picture of a silverblack roan (summer coat, 4 year Rocky mare at the Internationals in Kentucky 2011 and if it is the horse I saw at a webpage she has two silver genes).
Then we have Percy with the genetic combination E?AaZzCrcrrnrn and Pepper that she was sired with as E?aazzcrcrRnrn.
And now it get tricky…
E?AaZzCrcrrnrn
E?AazzCrcrrnrn
E?AaZzcrcrrnrn
E?AaZzcrcrRnrn
E?AazzcrcrRnrn
E?AaZzcrcrRnrn
E?aaZzCrcrrnrn
E?aaZzCrrnrn
E?AaZzCrrnrn
E?AaZzCrrnrn
E?AaZzCrrnrn
E?AaZzCrrnrn
E?AaZzCrrnrn
Wait a moment, it is going to be easier to put this information in a coat color calculator. This time I used this
one
.
Percys calculations is above in the Swedish written part, but with both English and Swedish names for the colors. It is most likely that either Percy or Pepper is EE at the extension locus and then the first calculation is correct. Behind the % can there as with Bunny be different genetic setups. For her there is two genetic possabilitys for each color that visually looks the same.
In the second example for Percy is the odds if both Pepper and Percy is Ee at the extension locus. Chestnut, red roan, palomino and palomino roan is then also possible. And yes, how do all those colors look like? I have tried to give some examples…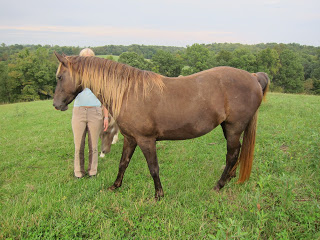 A smokey silver black /Silvergulbrun
So what do we know about the colors of Percy's offsping? Well, there is a lot of different possabilitys, where most of them is unusal in Sweden and it is more likely that the offsping get any of them instead of becomeing black, bay or chestnut. And, that it is not at all impossible thtat the offsping is going to need some genetic testing to determing its true color as it is not always easy to see in a horse with many different genes.
http:///ullekalv.se/wp-content/uploads/2015/09/ullekalv_header_logo.png
0
0
Ingrid Amadori
http:///ullekalv.se/wp-content/uploads/2015/09/ullekalv_header_logo.png
Ingrid Amadori
2013-02-09 09:35:00
2013-02-09 09:35:00
Hästfärger – kommande föl